Home » Regions » North America » North American Deserts
North American Deserts
Page contents
To check where a specific point lies, you can look it up in our Ecoregion Locator.
↑Map Legend & Subregion List
This list will help you navigate the regions in case you have problems with viewing or clicking the interactive map above.
† Status: ✓ = Complete ○ = Needs Image … = Incomplete ∅ = Stub Only
↑Progress
| | | |
| --- | --- | --- |
| Partially Complete | With Images | Complete w/ Images |
Get involved! You can help our ecoregion articles progress faster. Help us find photos of these regions. Contact us if you have any additions or corrections to any of these articles. You can also donate to support our ongoing work.
↑About the North American Deserts
The
North American Deserts
represent a diverse collection of different arid regions. In the north and central areas, the deserts are limited to interior areas in the rain shadow of the coastal mountain ranges. As one progresses south, a persistent high pressure system over the West Coast of Mexico pushes rainfall-producing systems away, leading the deserts to extend the whole way to the coast, south through most of Baja California. Along the Pacific coast, the deserts transition into
Mediterranean California
to the north, and to
Tropical dry forests
to the south. These regions have opposite seasonal precipitation patterns due to the high pressure system moving north in summer and south in winter. Central Mexico also has a separate desert produced by rain shadow to the east of the mountains.
Within this region, there are radically different ecosystems, often influenced by altitude and topography. Although all of this region, on average, qualify as deserts by moisture levels, the total amount of precipitation, the seasonal pattern of rainfall, and the ranges of temperature can vary from one desert to another.
The warmer deserts, such as the low-altitude Sonoran desert, have higher biodiversity and higher structural diversity in their plants owing to the greater portion of plants that can survive the coldest temperatures. Deserts bordering the ocean also experience more moderate temperatures and more humid air. Higher-altitude and more interior deserts, on the other hand, can have huge swings of temperature, cold temperatures in winter, and drier air overall, all of which severely limit plant growth.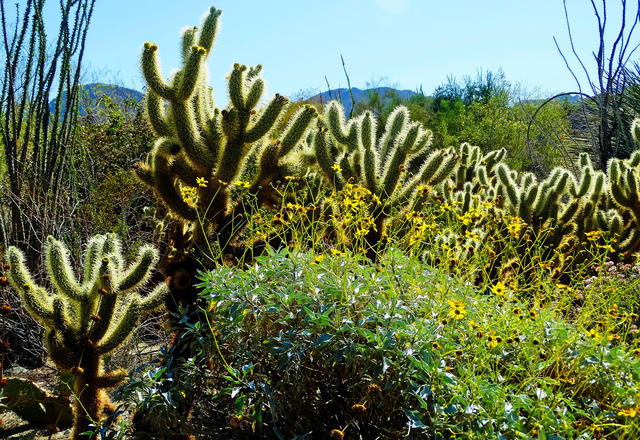 In spite of being extremely dry, the Sonoran desert can have a surprisingly lush landscape. Photo © Don Graham,
CC BY-SA 2.0
.
Original Photo on Flickr
.