Home » Regions » North America » Marine West Coast Forest » Coast Range
Coast Range
Page contents
To check where a specific point lies, you can look it up in our Ecoregion Locator.
↑Map Legend & Subregion List
This list will help you navigate the regions in case you have problems with viewing or clicking the interactive map above.
† Status: ✓ = Complete ○ = Needs Image … = Incomplete ∅ = Stub Only
‡ This code refers to the US EPA's Level 4 ecoregion codes for the continental U.S., see here.
↑Progress
| | | |
| --- | --- | --- |
| Partially Complete | With Images | Complete w/ Images |
Get involved! You can help our ecoregion articles progress faster. Help us find photos of these regions. Contact us if you have any additions or corrections to any of these articles. You can also donate to support our ongoing work.
↑About the Coast Range
The
Coast Range
is an ecoregion of the U.S. located along the coast of western Washington state, Oregon, and northwest California. The region is narrower towards its southern end. It represents the southernmost portion of the
Marine West Coast Forest
in North America. This region corresponds partly to the mountain range called the
Oregon Coast Range, Pacific Coast Range, or just the Coast Range
, but it does not correspond exactly. In south of the mountain range, the more inland portions of this mountain range are drier and thus are classified in a different ecoregion, as part of the relatively more arid
Western Cordillera
. Also, although the mountain range is generally considered to end at the Middle Fork Coquille River in southern Oregon, this region extends in a narrow strip along the California coast, south to just north of the Bay Area.
This region consists of low mountains, mostly covered by rich coniferous forests. The climate is exceptionally moderate and rainfall is high. Due to the influence of the ocean, there is little temperature variation both from day to day and at different times of year, although temperature variation increases as one moves inland and to higher elevations. Although the northern part of the region is wet year-round, there is a seasonality of rainfall throughout, with more rain falling in the winter, and as one moves south this seasonality becomes more pronounced, with significant periods of summer drought, with the southernmost end of this region experiencing multiple-week-long periods without any rain in some years.
Although the maximum height of these mountains is small, the terrain is steep and landslides and sliding debris are common. Throughout much of the region there is little flat ground, but in a few local areas there are flat bottomlands along streams and rivers, and there are also a few very small, isolated plateaus.
Like much of the West Coast, the slope into the ocean is abrupt through much of the region. Although there are some coastal beaches and sand dunes, cliffs and steep descents into the sea are more common, and there are some marine terraces where a large, flat region that previously was at sea level has been raised above sea level.
The vegetation here can be seen as transitional between cover typical of the Pacific Northwest and that more typical of Northern California; there are more conifers overall but also significant deciduous trees. Dominant trees include
douglas-fir (Pseudotsuga menziesii)
,
white fir (Abies concolor)
,
incense cedar (Calocedrus decurrens)
,
tanoak (Notholithocarpus densiflorus)
,
jeffrey pine (Pinus jeffreyi)
,
shasta red fir (Abies ×shastensis)
,
sugar pine (Pinus lambertiana)
,
ponderosa pine (Pinus ponderosa)
,
giant chinquapin (Chrysolepis chrysophylla)
,
canyon live oak (Quercus chrysolepis)
. Some lower areas, especially in the south of this region, have chaparral characteristic of coastal California farther south. There are also some Oregon oak woodlands, with dominant trees
oregon white oak (Quercus garryana)
,
pacific madrone (Arbutus menziesii)
,
california black oak (Quercus kelloggii)
, and ponderosa pine, and some grasslands.
At the southernmost end, this region borders the Central California Foothills and Coastal Mountains. Slightly north of this, inland to the east it is bordered by the
Klamath Mountains/California High North Coast Range
, and as one moves farther north, the Willamette Valley and then the Puget Lowland. Just inland from here, part of this region surrounds a small section of the North Cascades, a higher-altitude mountainous region.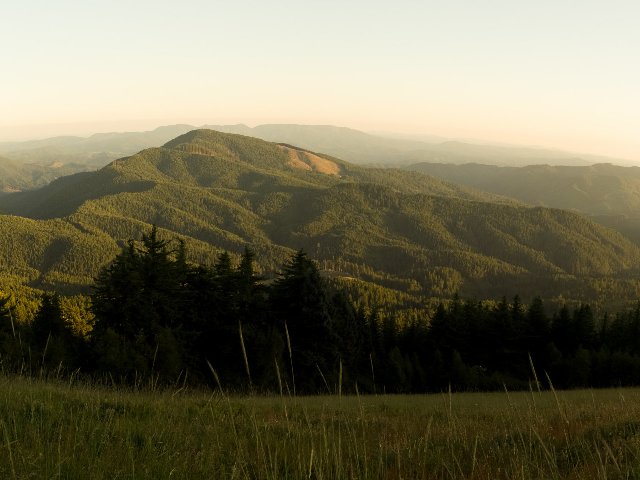 This photo of Siuslaw National Forest shows terrain typical of the Coast Range: low mountains with relatively steep slopes, mostly covered in coniferous forests. This is a crop of a photo © Patrick Cain,
CC BY 2.0
,
Source
.
Plant Lists & In-Region Search
↑References
1. Wiken, E., Griffith, G. "North American Terrestrial Ecoregions - Level III", Commission for Environmental Cooperation, (2011) Web.