Home » Regions » North America » Northwestern Forested Mountains » Western Cordillera » Klamath Mountains/California High North Coast Range
Klamath Mountains/California High North Coast Range
Page contents
To check where a specific point lies, you can look it up in our Ecoregion Locator.
↑Map Legend & Subregion List
This list will help you navigate the regions in case you have problems with viewing or clicking the interactive map above.
† Status: ✓ = Complete ○ = Needs Image … = Incomplete ∅ = Stub Only
‡ This code refers to the US EPA's Level 4 ecoregion codes for the continental U.S., see here.
↑Progress
| | | |
| --- | --- | --- |
| Partially Complete | With Images | Complete w/ Images |
Get involved! You can help our ecoregion articles progress faster. Help us find photos of these regions. Contact us if you have any additions or corrections to any of these articles. You can also donate to support our ongoing work.
↑About the Klamath Mountains/California High North Coast Range
The
Klamath Mountains/California High North Coast Range
is a mountain range in southwestern Oregon and northwestern California located inland from the Coast Range but west of the Cascades.
This region is towards the cooler, wetter end of a Mediterranean climate, and has warm, dry summers and cool, wet winters. This climate averages arid enough to drive major changes in vegetation by elevation: low elevations, especially in the east of the region, get as little as 18.5 in (470mm) of rain annually, whereas mountains, especially those closer to the coast, receive over 118 inches (3,000mm) near their summits.
The terrain here is highly rugged, with steep slopes and extensively dissected terrain. However, there are also areas of more moderately-sloped hills, and some areas of extensive flat floodplains and terraces. There is a high density of streams and rivers, with most of the larger rivers flowing westward out of this region to eventually empty into the Pacific ocean. There are some small glacial lakes at high elevations towards the southern end of this region.
The vegetation here is highly variable, tending to be transitional between the typical flora of the Pacific Northwest and that of northern California. Higher elevations with greater rainfall support
douglas-fir (Pseudotsuga menziesii)
,
white fir (Abies concolor)
,
incense cedar (Calocedrus decurrens)
,
tanoak (Notholithocarpus densiflorus)
,
jeffrey pine (Pinus jeffreyi)
,
shasta red fir (Abies ×shastensis)
,
sugar pine (Pinus lambertiana)
,
ponderosa pine (Pinus ponderosa)
,
giant chinquapin (Chrysolepis chrysophylla)
,
canyon live oak (Quercus chrysolepis)
. More arid areas at lower elevations support chaparral and
western juniper (Juniperus occidentalis)
. Areas slightly intermediate between these two moisture levels support open woodlands of
oregon white oak (Quercus garryana)
,
pacific madrone (Arbutus menziesii)
,
california black oak (Quercus kelloggii)
, and ponderosa pine, whereas some of the driest, most fire-prone sites feature open grasslands. This region also contains some of the largest areas of serpentine barrens anywhere in North America, many of them extending to high elevations; these areas are largely devoid of vegetation in spite of the high rainfall, due to the high portion of toxic heavy metals in the soil.
Most of this region, particularly the portion in California, and the more steeply-sloped terrain throughout, is sparsely populated, but there are some small cities here on the Oregon side. The largest is Medford, with a population of over 85,000. Other cities include Roseburg, Grants Pass, and Ashland. On the California side the largest settlement is Yreka, followed by Weaverville, both well under 10,000 people. All of these cities are concentrated in broad, flat valleys, but they are located at varying elevations, with Yreka at 2,589ft (789m) and Grants Pass at 960ft (293m). This region is primarily used for forestry, with significant amounts of recreation and tourism, and small amounts of agriculture, including ranching and grazing, hay production, pastureland, and production of truck crops in valleys. There is also a small amount of mining. Large areas of this region are protected as public land, including both national forest and national monument, a small amount of state parkland on the California side, and some county-owned lands.
This region is bordered to the west by the
Coast Range
, a similar region of mountains that are often, but not always lower in elevation than this region, and have a more strongly ocean-moderated climate. In the north of this region, it is bordered to the east by the
Cascades
, a more inland mountainous region with a more variable climate and stronger seasonality of precipitation. South of this there are a few areas where this region directly borders the
Eastern Cascades Slopes and Foothills
to the east; this region is a hilly but lower-elevation region which also has greater variability and a more continentally-influenced climate, but is significantly more arid and mostly covered in open forests. At the southern end of this region, it is bordered to the east and south by the
California Coastal Sage, Chaparral, and Oak Woodlands
, a semiarid region of lower elevations, with a Mediterranean climate, dominated by lower, scrubby vegetation. At the far northern end of this region there is also a small border to the north with the
Willamette Valley
, a lower, flatter region.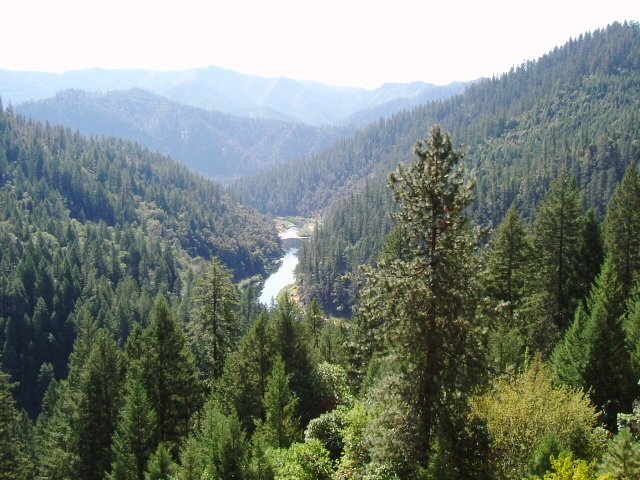 This photo, taken from Highway 96 in California, shows a landscape typical of the Klamath Mountains, fairly rugged terrain mostly covered in coniferous forests, but becoming more open at the lower elevations as rainfall decreases. Photo © Robert Ashworth,
CC BY 2.0
,
Source
.
Plant Lists & In-Region Search