Home » Regions » North America » Northern Forests » Mixed Wood Shield » Northern Lakes and Forests » Cheboygan Lake Plain
Cheboygan Lake Plain
Page contents
↑About the Cheboygan Lake Plain
The
Cheboygan Lake Plain
is a region in the northeast of Michigan's lower peninsula characterized by sandy soils over carbonate bedrock, and an abundant of poorly-drained areas and wetlands. Most of this region lies along the shores of Lake Huron but the westernmost parts of the region lie along Lake Michigan. The region also includes several small islands in Lake Huron, mostly near the shore. The forest composition here is quite different from adjacent areas of the lower peninsula, and the land use is quite different, with more industry and less agriculture.
Most of this region has sandy soils, and there are sand dunes, beach ridges, and sand plains. However, in the area directly adjacent to the lake, the glacial drift is thin. Calcium-rich bedrock of limestone, dolomite, and gypsum lies just under the surface and is exposed in some areas. Fine, silt-loam has formed on the bedrock. Many of the sandy soils are also mixed with gravel and larger stones, and some of these soils are more poorly-drained than the pure sandy soils found inland. There are also mucky soils, acidic soils with a mixture of sand and abundant organic matter, in low-lying depressions. There are some cobble beaches along the lake.
This area originally had large areas of wetlands, mostly dominated by
northern white-cedar (Thuja occidentalis)
and
tamarack (Larix laricina)
. Other important trees include
balsam fir (Abies balsamea)
,
black spruce (Picea mariana)
,
eastern hemlock (Tsuga canadensis)
,
eastern white pine (Pinus strobus)
, and various aspen, birch, and willow. Drier sites with deep outwash sands supported
red pine (Pinus resinosa)
and
jack pine (Pinus banksiana)
, and red pine and white pine grew on beach ridges.
The land use in this region is peculiar in that it is a low-population rural area, but what little population there is is mostly concentrated in urban-industrial development along the lakeshore. There is significant mining of the calcium-rich bedrock, concentrated in several large quarries. The largest limestone quarry in the world is found here, located outside Rogers City and owned and operated by the Michigan Limestone and Chemical Company. There are also two quarries outside Stoneport, and one outside Alpena. Alpena is the largest city, and is also home to the largest cement plant in the world. There is little agriculture here, and it is mostly concentrated in the inland portions of this region. Outside these uses, there is a small amount of hunting, fishing, and recreation here. Most of the land throughout this region is wild. There is a smmall amount of protected public land, at Thompson's Harbor State Park, the Rockport State Recreation Area, and Thunder Bay River State Forest.
Over most of its length, this region is bordered to the southwest by the
Onaway Moraines
, which is also surrounded by this region in a few places in the west. The Onaway Moraines have diverse landforms but average hillier and higher elevation. In the west of this region there is a border to the south with the
Vanderbilt Moraines
, an area that is higher-elevation and has more drought-prone soils. In the far west there is also a small border with the
Manistee-Leelanau Shore
, a region with a more moderate climate and exclusively sandy soils, with no bedrock near the surface.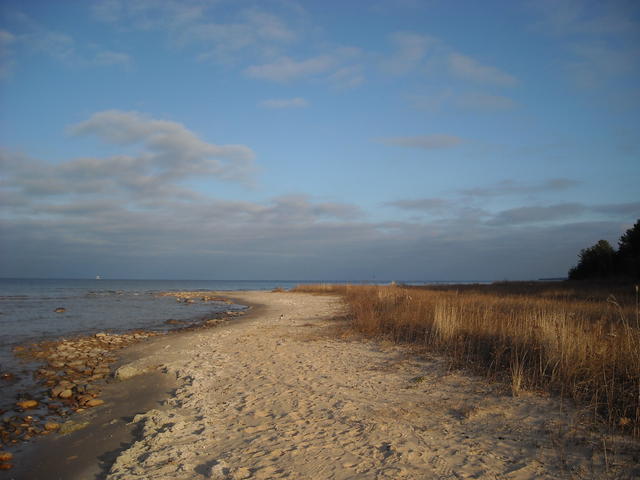 This photo shows a beach at Cheboygan State Park; note the presence both of sand and larger stones, reflecting the mix of bedrock and sandy glacial deposits in this region. In the far right, pines represent the first large trees along the lakeshore. Photo © prettyemmy (Flickr),
CC BY-SA 2.0
,
Source
.
Plant Lists & In-Region Search
We do not yet have data to generate plant lists for a region as fine-tuned as this one. However you can move up to the broader Northern Lakes and Forests and generate lists for that region: native plants or all plants. Or search that region's plants here:
↑References
1. Omernik, J.M., Bryce, S.A. "Michigan: Level III and IV Ecoregion Descriptions / Mapping Issues", US EPA (2007) Web.