Home » Regions » North America » Northern Forests » Mixed Wood Shield » Northern Lakes and Forests » Cadillac Hummocky Moraines
Cadillac Hummocky Moraines
Page contents
↑About the Cadillac Hummocky Moraines
The
Cadillac Hummocky Moraines
are an interior region in the lower peninsula of Michigan.
This region consists of terminal moraines consisting of deep sandy and gravely glacial drift. Some of the moraines reach heights of 200-500 feet above their surroundings, one of these is
Briar Hill
, the highest point in Michigan's lower peninsula, at 1,706 ft (520 m). Most of this region is covered with coarse, deep sandy soils that are poor at holding moisture. Unlike other moraine ecoregions in the broader area, this region has a distinct lack of wet depressions between the moraines; the depth and drainage of the soil leads to a general lack of such wet areas here. The south of this region has more sandy loams. There were a small portion of region with finer-textured soils and lower permeability.
The region has a humid continental climate that averages among the coldest in Michigan's lower peninsula, although with significant variation. The growing season ranges from 90 to 140 days; snowfall is highest in the west. Temperatures are warmer in the south and at lower elevations, especially in the southeast.
This area was originally mostly forested. Due to the cold climate, even sandy, coarse soils were mostly covered in
American beech (Fagus grandifolia)
,
sugar maple (Acer saccharum)
, and
northern red oak (Quercus rubra)
, with some
eastern hemlock (Tsuga canadensis)
and
eastern white pine (Pinus strobus)
. Some areas, especially on outwash sites, were drier and more fire-prone and supported communities of
white oak (Quercus alba)
,
black oak (Quercus velutina)
,
red pine (Pinus resinosa)
, and
jack pine (Pinus banksiana)
. This region represents a climate transition where more southerly hardwood species like
eastern black walnut (Juglans nigra)
,
tuliptree (Liriodendron tulipifera)
, and hickories reach their northern range limits; moving north through this region they became progressively rarer and were replaced by eastern hemlock, white pine, and
yellow birch (Betula alleghaniensis)
.
The forests here have been cleared, but in many places have regrown. Presently, there is extensive pastureland, but little other agriculture, mostly a small amount of forage crops on the finer-textured soils. Forest cover is mostly limited to hillier sites. Coarser, drier soils support second-growth oak woodland, and even drier, excessively-drained soils are left in forest of jack pine and
northern pin oak (Quercus ellipsoidalis)
. Some areas of well-drained, sandy loams support forests of sugar maple, red pine, and eastern hemlock, with some white pine and jack pine.
This region is bordered to the south and southeast by the
Lansing Loamy Plain
, which is flatter, has soils better at holding moisture, and a slightly warmer climate, and as such is much more intensively farmed. To the west lie the
Newaygo Barrens
, a much flatter region that is more fire-prone. To the north and northeast lie the much flatter
Mio Plateau
.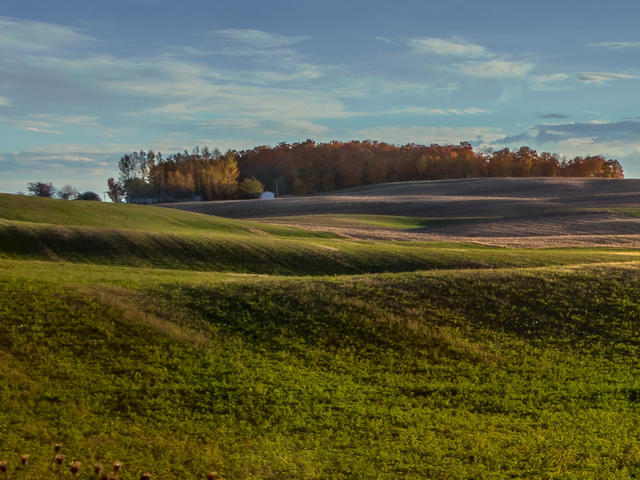 This landscape east of Cadillac, Michigan, shows a rolling, hilly landscape that is mostly used in pasture and forage crops; there is little surface water and forest is mostly limited to the most rugged terrain. This is a crop of a photo by Christian Collins. Photo © Christian Collins,
CC BY 2.0
,
Source
.
Plant Lists & In-Region Search
We do not yet have data to generate plant lists for a region as fine-tuned as this one. However you can move up to the broader Northern Lakes and Forests and generate lists for that region: native plants or all plants. Or search that region's plants here:
↑References
1. Omernik, J.M., Bryce, S.A. "Michigan: Level III and IV Ecoregion Descriptions / Mapping Issues", US EPA (2007) Web.