Home » Regions » North America » Northern Forests » Mixed Wood Shield » Northern Lakes and Forests » Mio Plateau
Mio Plateau
Page contents
↑About the Mio Plateau
The
Mio Plateau
is a large, flat, relatively high-elevation region covering much of the nothern interior of Michigan's lower peninsula.
This region consists of a broad outwash plain. Much of it is flat, but there are numerous local hilly features raised above the flat landscape. Base elevations range from just over 1200 feet in the north to under 1000 in the south. The region is covered in extremely deep glacial drift, up to 800 feet thick in places. In most areas, the water table lies far beneath the surface, and as such there are few wetlands and lakes, although a few can be found where clay layers near the surface locally impede drainage.
The region has a humid continental climate that is among the harshest in the lower peninsula, owing to its northerly location, higher elevation, and distance from the lake. The growing season averages 80-130 days, but frost is possible at any time of year, particularly in local depressions where cold air concentrates.
Originally, this region was mostly forested. Drier sites on outwash plains, with excessively well-drained soils, supported
jack pine (Pinus banksiana)
,
red pine (Pinus resinosa)
,
eastern white pine (Pinus strobus)
, and
northern pin oak (Quercus ellipsoidalis)
; these sites had a mosaic of vegetation types maintained by fire, with some open grassland, jack pine savanna, or closed forest of jack and red pine on areas that burned more regularly and intensely. Wetter sites on outwash plains supported white pine,
eastern hemlock (Tsuga canadensis)
, aspen, and
red maple (Acer rubrum)
. Areas with finer-textured soils supported
American beech (Fagus grandifolia)
and
sugar maple (Acer saccharum)
along with other hardwoods. Such forest types were also more common in the northwest, where proximity to the lake increased humidity, and a long terminal moraine functioned as a firebreak. There were a also a few areas of conifer-hardwood swamps, conifer swamps, and bogs in the area around Higgins and Houghton Lakes and nearby Dead Stream Swamp.
The forests here were almost entirely logged, although some old growth of white and red pine is preserved at Hartwick Pines State Park. There is almost no agriculture here, owing to the cold climate and poor soils. Some of the more poorly-drained sites have been cleared for pastureland. The region is sparsely populated, but there are numerous towns throughout, including Houghton Lake, Mio, Roscommon, Grayling, Kalkaska, Gaylord, and Lewiston. Most of these towns are located near local areas of poor drainage, with small lakes and land more suitable as pastures.
This region is bordered to the southwest by the hillier
Cadillac Hummocky Moraines
. At the far west, there are also small borders with the
Newaygo Barrens
to the southwest and the
Platte River Outwash
to the northwest. Along most of this region, the border to the north is with the
Vanderbilt Moraines
, where there is an abrupt drop-off from the flat plateau down to the level of the lake plain, and there is a sudden appearance of a heavily-dissected landscape along major streams and rivers. The border to the southeast, with the
Tawas Lake Plain
, is marked by finer-textured soils and a milder climate. At the far east there is also a small border with the
Onaway Moraines
to the northeast.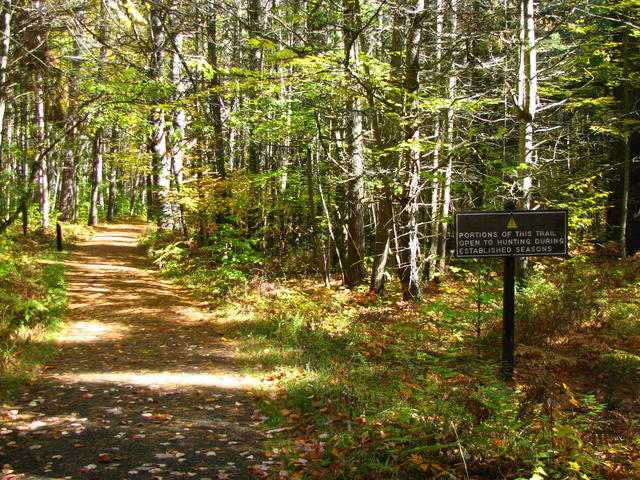 A path at Hartwick Pines State Park; this park has one of the largest tracts of protected land on the Mio Plateau, featuring pine and mixed pine-hardwood forest, including some old growth. Photo © The Last Cookie (Flickr),
CC BY 2.0
,
Source
.
Plant Lists & In-Region Search
We do not yet have data to generate plant lists for a region as fine-tuned as this one. However you can move up to the broader Northern Lakes and Forests and generate lists for that region: native plants or all plants. Or search that region's plants here:
↑References
1. Omernik, J.M., Bryce, S.A. "Michigan: Level III and IV Ecoregion Descriptions / Mapping Issues", US EPA (2007) Web.