Home
»
Plants
»
Acalypha virginica
Virginia Threeseed Mercury (Acalypha virginica
L.

)

Also known as virginia copperleaf, virginia mercury.

Page contents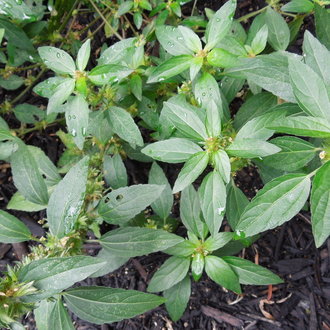 ↑Summary
An inconspicuous weedy annual native to eastern to central North America. Its name is midsleading: although it occurs in Virginia, it is more common farther north and west.
| | |
| --- | --- |
| Legend | Color |
| Native | |
| Extirpated | |
| Native or Not Present | |
| Native or Expanded | |
| Native or Expanded or Not Present | |
This map is based on our research. We have checked its accuracy to Level 3 ecoregions. Although this plant occurs somewhere in each of these regions, it may only occur in a small part of some or all of them.
↑Similar Plants
↑Habitat
Found in open woods, thinly-wooded areas, or occasionally grasslands, that have been disturbed in late spring, after the emergence of other vegetation. Natural habitats include disturbed sites in rocky woodlands, partly-wooded cliffs, forest edges, and prairies. Anthropogenic habitats include abandoned fields, areas along roadsides and railroads, and partly shaded yards and gardens particularly areas under trees that receive sunlight from the side.

Fairly general in habitat preferences. Relative to Acalypha rhomboidea, this species prefers slightly drier and often less-fertile soils, but habitats that are slightly more stable.
↑Related Plants
Overlaps in range with several Acalypha species in various parts of its range.
↑Links & External Resources
• Acalypha virginica (Virginia Mercury) | Illinois Wildflowers (About This Site)
• Acalypha virginica (Virginia Threeseed Mercury) | USDA PLANTS Database (About This Site)
• Acalypha virginica | Go Botany (About This Site)
• Virginia Three-Seed Mercury | iNaturalist (About This Site)
• Acalypha virginica | CABI Invasive Species Compendium (About This Site)
• Acalypha virginica | Biota of North America Project (BONAP) (About This Site)
↑Photo gallery