Home
»
Plants
»
Symphyotrichum laeve
Smooth Blue Aster (Symphyotrichum laeve
(L.) Á. Löve & D. Löve

)

Also known as smooth aster.

Page contents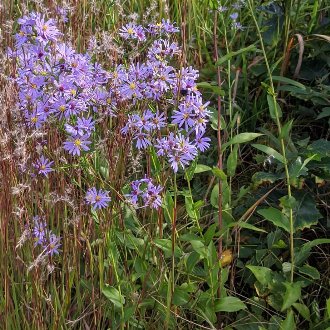 | | |
| --- | --- |
| Legend | Color |
| Native | |
| Native or Not Present | |
| Introduced or Not Present | |
This tentative map is based on our own research. It may have limited data on Canada and/or Mexico, and there is some subjectivity in our assignment of plants as introduced vs. expanded. Read more in this blog post.
↑Similar Plants
↑Habitat
Habitats include open woodlands, especially on rocky or sandy soils, prairies, fields, roadsides. Widely distributed in North America, but scattered and uncommon in much of its range, especially in the southern reaches of its range.

Found in lighting conditions ranging from full sun to light shade, but favors sunnier sites. Found on a range of soils, including clay-loam, sandy-loam, and rocky loam, or soil with some rocky material, including shallow or thin soils. Found in soils ranging from alkaline to slightly acidic.

More likely to be found in intact wild areas, but sometimes thrives along roadsides in these areas. Not a pioneer species; typically colonizes disturbed sites after other plants have already established and the soil has developed somewhat.

May favor sites that have experienced severe, crown-destroying wildfires a few years prior, benefitting from the open canopy, but less adapted to frequent fires.
↑Life Cycle
A long-lived perennial.

Seeds do not require a period of dormancy, and may germinate soon after falling, with germation highest a few weeks after their distribution. This species does not persist in the seed bank, and typically no viable seed remains after a year.
↑Uses
Sometimes cultivated in gardens. It is valued for its blue, purple, or lavender flowers with fairly bold rays, and its attractive and distinctive-looking blue-green foliage, and its lesser tendency to flop over than other similar-looking large purple asters. It also transplants well, is readily grown from seed, and can grow in a wide range of conditions. It also grows well in harsh urban conditions.

This species makes a better garden plant than is reflected by its uncommon use for this purpose. Its use in landscaping has been increasing. However, its use may be limited by greater susceptibility to browsing by deer or rabbits than some species.

Infrequently used in prairie restoration projects along roadsides, where it is suitable for tallgrass and mixed-grass plantings.
↑Related Plants
Numerous other Symphyotrichum species co-occur with this one; nearly all of these species are native to North America.

This species has been hybridized with Lindley's aster (Symphyotrichum ciliolatum), white panicle aster (Symphyotrichum lanceolatum), and calico aster (Symphyotrichum lateriflorum), all of which overlap with this one in range, but these hybrids are not known to occur in the wild.
↑Notes
Although this species is sometimes referred to as smooth aster, we recommend avoiding that name because it can sometimes also refer to the siskiyou aster (Doellingeria glabrata), a West Coast species. The common name smooth blue aster is less ambiguous.
↑Links & External Resources
• Smooth Blue Aster | Fire Effects Information System (FEIS) (About This Site)
• Symphyotrichum laeve (Smooth Blue Aster) | Illinois Wildflowers (About This Site)
• Symphyotrichum laeve (Smooth Blue Aster) | USDA PLANTS Database (About This Site)
• Symphyotrichum laeve | Go Botany (About This Site)
• Smooth Blue Aster | iNaturalist (About This Site)
• Symphyotrichum laeve (Smooth Aster) | Missouri Botanical Garden Plant Finder (About This Site)
• Symphyotrichum laeve | Biota of North America Project (BONAP) (About This Site)
• Symphyotrichum laeve | NatureServe Explorer (About This Site)
• Symphyotrichum laeve | Flora of North America (About This Site)
• Symphyotrichum laeve | Missouri Plants (About This Site)
• Smooth Blue Aster | Maryland Biodiversity Project (About This Site)
• Smooth Blue Aster (concinnum) | Maryland Biodiversity Project (About This Site)
• Smooth Blue Aster (laeve) | Maryland Biodiversity Project (About This Site)
↑Photo gallery