Home » Regions » North America » Eastern Temperate Forests » Mixed Wood Plains » North Central Hardwood Forests » Platte River Outwash
Platte River Outwash
Page contents
↑About the Platte River Outwash
The
Platte River Outwash
is a small region in the northwest of Michigan's lower peninsula, a bit inland from Lake Michigan.
This region is an outwash plain with somewhat diverse topography: parts of it are nearly entirely level, but there are numerous local features, including outwash channels and terminal moraines, some of which have steep slopes. There are several areas with abrupt shifts between flat expanses of higher and lower ground. The Platte river and its tributaries flow through broad outwash channels. The water table is close to the surface throughout much of the region, and there are numerous small lakes and kettle ponds, especially in the east, which drain into the Platte river. The region has a humid continental climate moderated somewhat by the lake, but less than areas closer to the shore. Soils are sandy throughout, ranging from excessively-well-drained to well-drained.
The lake-moderated climate and higher water table enabled growth of drought-intolerant
American beech (Fagus grandifolia)
and
sugar maple (Acer saccharum)
, even on dry, sandy soils. This contrasts to areas to the south and east, where decreasing lake influence and depth of the water table led to increased risk of drought and fire that prevents the establishment of this richer forest type. In the east of the region,
Red pine (Pinus resinosa)
was common on the shores of small lakes.
Most of the forest here was cleared, and there were attempts at agriculture over most of the region. However, the soils here are prone to wind erosion, and much of the agriculture declined and failed after a short period of time, and after significant soil loss and degradation. Most of the agriculture has been abandoned, but there is still some production of small grains and hay. There are some pine plantations. Much of the region though has reverted back to forest, which tends to be in large, unbroken tracts. Part of the lands along the lakes in the southeast of this region are preserved as part of Interlochen State Park; this park has some old-growth stands of red pine. Some of the lakes here have been enlarged by damming.
Current forest composition has shifted to a greater portion of pine and oak; there is some beech-sugar maple forest, but with a greater portion of
eastern white pine (Pinus strobus)
and red pine. There are also significant amounts of
northern red oak (Quercus rubra)
and
black oak (Quercus velutina)
, as well as aspen. These may represent an earlier successional stage in the process of reverting back to the original state of beech-maple forest, and may also reflect nutrient loss associated with agriculture, as oak and pine have lower nutrient needs than sugar maple in particular.
This region is bordered to the south by the more fire- and drought-prone
Newaygo Barrens
. To the west and north, along Lake Michigan, this region is bordered by the
Manistee-Leelanau Shore
, with an even more lake-moderated climate. In the east of this region there is a small border to the southeast by the
Mio Plateau
, which is colder, higher-elevation, and less lake-moderated; in places, this border is well-defined and marked by terminal moraines, but in the east, it is a gradual transition with an arbitrary cutoff.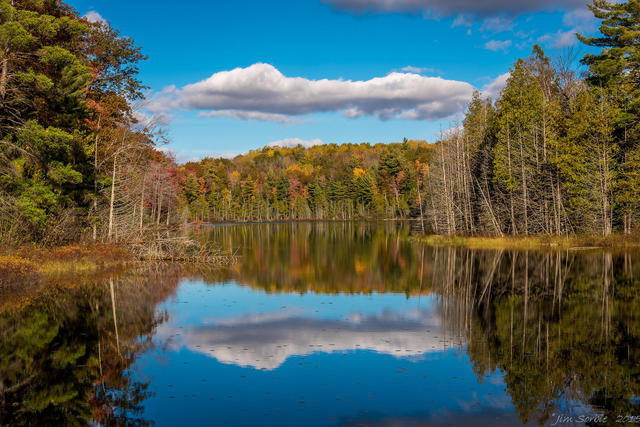 This photo shows Ransom Lake near Lake Ann, Michigan. This is one of many kettle ponds in the Platte River Outwash plain. The dense forests are typical of this region, owing to a lake-moderate climate and high water table, contrasting with areas to the east and south where drought and fire are more common. Photo © Jim Sorbie,
CC BY 2.0
,
Source
.
Plant Lists & In-Region Search
↑References
1. Omernik, J.M., Bryce, S.A. "Michigan: Level III and IV Ecoregion Descriptions / Mapping Issues", US EPA (2007) Web.