Home » Regions » North America » Eastern Temperate Forests » Mixed Wood Plains » Southern Michigan/Northern Indiana Drift Plains » Interlobate Dead Ice Moraines
Interlobate Dead Ice Moraines
Page contents
↑About the Interlobate Dead Ice Moraines
The
Interlobate Dead Ice Moraines
are a collection of three discontinuous regions in southern Michigan, with distinctive glacial features that stand out from their surroundings. The term "Dead Ice" refers to features formed when ice melted in place from a stalled glacier. The region stretches irregularly across most of the width of the state.
This region is covered with coarse-textured terminal moraines, kames, and sandy outwash. The topography is variable, but often much more rugged than surrounding areas. There are numerous kettle ponds, as well as lakes that formed in outwash channels. Soils vary by the different landforms: on moraines, the sandy and gravely soils are well-drained, often excessively so to the point of creating xeric (drought-adapted) plant communities. Outwash material is often well-drained, but can be poorly-drained when it is underlain by finer material. Kettle ponds often feature organic soils.
Before European settlement, the well-drained soils supported open oak savannas, oak-hickory forest, and both wet and dry tallgrass prairies, and tamarack/larch or willow-buttonwood swamps in poorly-drained depressions. Dominant tree species throughout these areas included white oak, black oak, pignut hickory, and pin oak on bottomlands. The prairies and savannahs were maintained in an open state by frequent fires.
Current land use is diverse. There is some cropland and pastureland, but also a lot of intact woodland, especially on the steepest slopes. Most remaining forests are of oaks, or in the west, some beech-maple. There are more intact wetlands in this region, reflecting the difficulty of draining wetlands in the more rugged terrain. There is also some urbanization, particularly suburban residential development; this region contains the cities of Pontiac and Jackson, part of the metro areas of Battle Creek and Kalamazoo, and some of the more distant exurban development associated with the Detroit metro area.
The southwesternmost piece of this region is entirely surrounded by the
Battle Creek/Elkhart Outwash Plain
, which also partly surrounds a second piece of this region to the southwest. This piece is bordered to the northeast by the
Lansing Loamy Plain
, which also marks the northwest border of the largest pieces of this region. This larger piece also borders the
Clayey High Lime Till Plains
and the
Maumee Lake Plain
to the southeast, the Battle Creek/Elkhart Outwash Plain in the southwest, and the
Saginaw Lake Plain
in the northeast.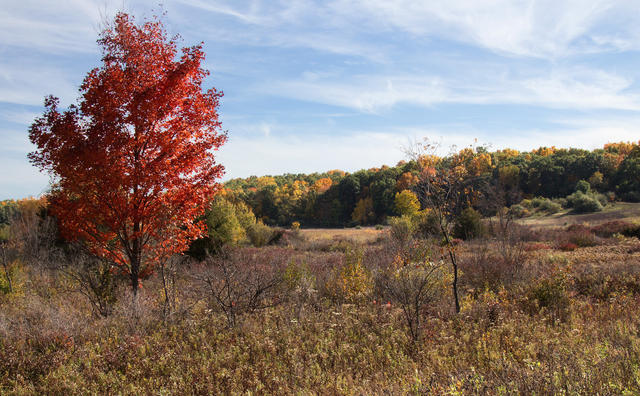 This autumn photo shows a landscape at Waterloo State Recreation Area, located within the Interlobate Dead Ice Moraines ecoregion. The somewhat hilly landscape with varied vegetation types is typical of the region. Photo by ksblack99 (Flickr),
Public Domain
,
Source
.
Plant Lists & In-Region Search
↑References
1. Omernik, J.M., Bryce, S.A. "Michigan: Level III and IV Ecoregion Descriptions / Mapping Issues", US EPA (2007) Web.