Home » Regions » North America » Northern Forests » Atlantic Highlands » Northeastern Highlands » St. John Uplands
St. John Uplands
Page contents
↑About the St. John Uplands
The
St. John Uplands
are a hilly upland region located in northern Maine and extending into Quebec at its westernmost end and into New Brunswick at its northernmost end.
Terrain consists mostly of open, rolling hills, mostly of moderate slopes but with some steeper slopes and narrower valleys. Elevations here mostly range from 1,000 to 2,000 feet, with peaks to 2,490 feet; local relief ranges from 300-1,000 feet. The region is covered by loamy and sandy-loamy glacial till, which is thin in most areas. Bedrock consists of a mix of weakly metamorphosed pelite and sandstone, and volcanic rocks. Soils tend to be loamy and acidic, typical of northern conifer-dominated regions.
Original forest cover here was a mix of spruce-northern hardwood forest and spruce-fir forest, with
red spruce (Picea rubens)
,
white spruce (Picea glauca)
,
balsam fir (Abies balsamea)
,
paper birch (Betula papyrifera)
, and
yellow birch (Betula alleghaniensis)
as dominants. Warmer sites featured northern hardwood forests of
sugar maple (Acer saccharum)
,
American beech (Fagus grandifolia)
, and yellow birch.
This region is still mostly forested, except for areas recently cleared for forestry, which is important in this region. Forests are a mix of evergreen conifers, hardwoods, and mixed forests, presumably similar to the original forest composition of this region. The portion of this region in the US is mostly unpopulated, but there are some small settlements in the northeast along the St. John river: St. John Plantation, St. Francis, and Allaghash, and also on the Canadian side of the river. Farther south there are some small towns on the Canadian side of the border but even there most of the region is unpopulated. Besides forestry, this area is also utilized for hunting, fishing, and recreation. This region includes some protected lands, including the Allagash Wilderness Waterway on the border of this and the Moosehead-Churchill Lakes region to the south.
This region is bordered to the east by the
Aroostook Hills
, to the northwest by the
International Boundary Plateau
, and south of that, the
Upper St. John Wet Flats
. At its east and west ends, it is bordered to the south by the higher-elevation, more rugged
Quebec/New England Boundary Mountains
. Between these areas, it is bordered to the south by the
Moosehead-Churchill Lakes
, a relatively flat region with numerous large lakes.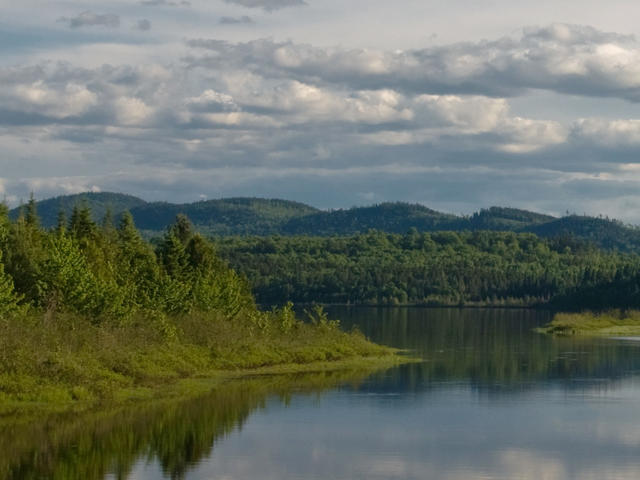 Pictured here is Clayton Lake; the landscape in the distance shows the hilly landscape typical of the St. John Uplands. This is a crop and edit of a public domain photo by James Weliver, U.S. Fish and Wildlife Service. James Weliver, U.S. Fish and Wildlife Service,
Public Domain
,
Source
.
Plant Lists & In-Region Search
We do not yet have data to generate plant lists for a region as fine-tuned as this one. However you can move up to the broader Northeastern Highlands and generate lists for that region: native plants or all plants. Or search that region's plants here:
↑References
1. Griffith, G.E., Omernik, J.M., Bryce, S.A., Royte, J., Hoar, W.D., Homer, J.W., Keirstead, D., Metzler, K.J., and Hellyer, G. "Ecoregions of New England (Poster)", U.S. Geological Survey (2009) Web.