Home » Regions » North America » Northern Forests » Atlantic Highlands » North Central Appalachians » Pocono High Plateau
Pocono High Plateau
Page contents
↑About the Pocono High Plateau
The
Pocono High Plateau
is a flat, forested upland area located in northeastern Pennsylvania, making up the southwesternmost region of the Poconos.
This region was recently glaciated, resulting in smoothing of the terrain and disruption of drainage. Although this area is high in elevation, it is relatively flat. Stream gradients are low, and there are numerous potholes and small glacial lakes. Wisconsinian glacial drift deposited here has resulted in rocky, acidic soils on most sites. A few sites have a different and even less-fertile soil composition resulting from the earlier, Illinoian glaciation, leading to a unique habitat called the
Pocono Till Barrens
, on which only savannah or scrubland is able to survive.
This region has a humid continental climate, considerably cooler and higher in precipitation than surroundings.
Original forest cover was mostly northern hardwood forest, with some Appalachian oak forest in the south. A few tracts of intact old growth forest remain, but most of this area now consists of newer, second- or third-growth forest.
Recreation and tourism is the main use of this region; the cool summers, flat topography, and proximity to major population centers of the northeast make it attractive for these purposes. Recently there has been an increase in suburbanization as well. There is almost no agriculture here.
This region is bordered to the southwest, west, and northwest by various regions of the
Ridge and Valley
system, mostly the
Northern Sandstone Ridges
and
Northern Shale Valleys
, and in one spot the
Anthracite Subregion
. It is surrounded to the southeast, east, and northeast by the
Low Poconos
.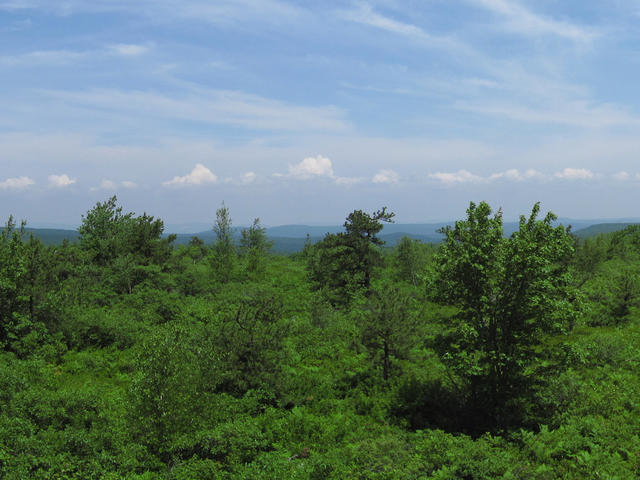 This view from Big Pine Hill in Lackawanna State Forest shows how this high-elevation region is quite flat. Although most of the region (visible in the distance) is forested, the foreground shows till barrens, a savannah-like landscape maintained by fire. Crop of a wide-angle photo © Chris M Morris,
CC BY 2.0
,
Source
.
Plant Lists & In-Region Search
We do not yet have data to generate plant lists for a region as fine-tuned as this one. However you can move up to the broader North Central Appalachians and generate lists for that region: native plants or all plants. Or search that region's plants here:
↑References
1. Woods, A.J, Omernik, J.M., Brown, D.D. "Level III and IV Ecoregions of Delaware, Maryland, Pennsylvania, Virginia, and West Virginia", U.S. Environmental Protection Agency: National Health and Environmental Effects Research Laboratory, Corvallis, OR (1999) Web.