Home » Regions » North America » Northern Forests » Atlantic Highlands » North Central Appalachians » Low Poconos
Low Poconos
Page contents
↑About the Low Poconos
The
Low Poconos
are a region of the Poconos, located mostly in northeastern Pennsylvania, extending into New York state.
Relative to the Pocono High Plateau to the west, this region is lower in elevation but more rugged. Although some areas are flatter than others, and glaciers smoothed the terrain somewhat, local relief still reaches up to 800 feet in places. Drainage is often poor, and there are abundant lakes and wetlands, especially on the flatter sites. The area closest to the Delaware river is steepest, and has high-gradient streams with waterfalls, including the highest set of waterfalls in Pennsylvania, Raymondskill Falls, as well as several others, including Dingman's Falls.
The underlying substrates of sandstone, siltstone, claystone, and shale are covered with glacial till. The underlying rock here is more easily erodible than that in the Pocono High Plateau, but the different substrates vary in their erodability leading to this area's more rugged and diverse topography. The glacial till near the surface leads to soils that are rocky, acidic, and poorly-drained, making this area poorly-suited to Western agriculture.
This area was originally mostly covered with Appalachian oak forest, and there were also abundant wetlands, including marshes, swamps, and bogs. This area is still mostly forested, although it has experienced significant suburban development in recent years.
This region is bordered to the west by, and partially surrounds the higher-elevation, flatter
Pocono High Plateau
. It is bordered to the north and northwest by the
Delaware-Neversink Highlands
. To the southeast it is bordered by a narrow region, the
Northern Glaciated Limestone Ridges, Valleys, and Terraces
, and along a small portion of the border to the southwest by the
Northern Shale Valleys
.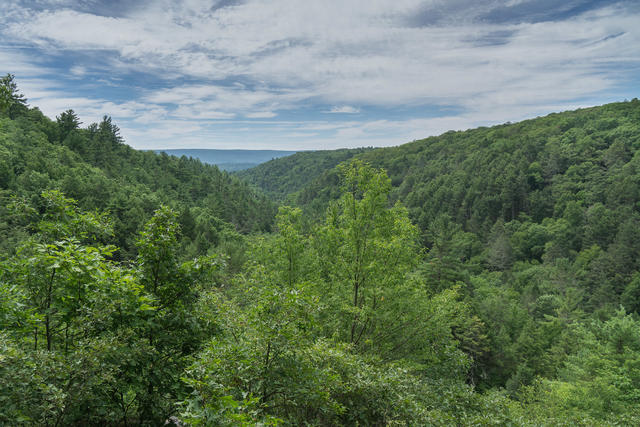 This photo, taken near the Bushkill Falls, shows the steeper portion of the Low Poconos, where waterfalls are common. Photo © Ravi Shah,
CC BY 2.0
,
Source
.
Plant Lists & In-Region Search
We do not yet have data to generate plant lists for a region as fine-tuned as this one. However you can move up to the broader North Central Appalachians and generate lists for that region: native plants or all plants. Or search that region's plants here:
↑References
1. Bryce, S.A., Griffith, G.E., Omernik, J.M., Edinger, G., Indrick, S., Vargas, O., and Carlson, D. "Ecoregions of New York (Poster)", U.S. Geological Survey (2010) Web.
2. Woods, A.J, Omernik, J.M., Brown, D.D. "Level III and IV Ecoregions of Delaware, Maryland, Pennsylvania, Virginia, and West Virginia", U.S. Environmental Protection Agency: National Health and Environmental Effects Research Laboratory, Corvallis, OR (1999) Web.