Home » Regions » North America » Eastern Temperate Forests » Ozark, Oauchita-Appalachian Forests » Ridge and Valley » Northern Shale Valleys
Northern Shale Valleys
Page contents
↑About the Northern Shale Valleys
The
Northern Shale Valleys
cover a large portion of the northern part of the
Ridge and Valley
region of the Appalachians. Irregularly shaped and interspersed with other regions, this region covers the largest area in central Pennsylvania, but extends well into Virginia.
This area is low-lying and consists of rolling valleys and low hills. Bedrock is a mix of sedimentary rocks, including shale, fine-grained sandstone and the finer siltstone. Relative to the bordering
Northern Limestone/Dolomite Valleys
, the soils here tend to be less permeable, but more easily eroded. This leads there to be more surface streams here, which tend to be murky.
On average, this region has poorer, more acidic soils, but there is considerable diversity in acidity and calcium content.
This area was probably originally covered by Appalachian oak forest in the north and Oak-Hickory-Pine forest in the south, with a different forest composition in bottomlands. There are also shale barrens, a unique habitat that occurs where erosion-resistant shale bedrock covers a steep south- or west-facing slope undercut by a stream. These conditions hinder the accumulation of soil and lead to dry conditions and high daytime surface temperatures. These barrens are covered with open woodland and scrubland, and are home to more drought-adapted species, and have a high portion of endemic species.
The Northern Shale Valleys are interspersed with the agriculturally more fertile, low-lying
Northern Limestone/Dolomite Valleys
, and the higher
Northern Sandstone Ridges
. In a few areas they also border the
Northern Dissected Ridges and Knobs
. At the northeastern end of this region, at the limit of glaciation, this region is replaced by the
Northern Glaciated Shale and Slate Valleys
, essentially the same substrate but shaped by glaciation.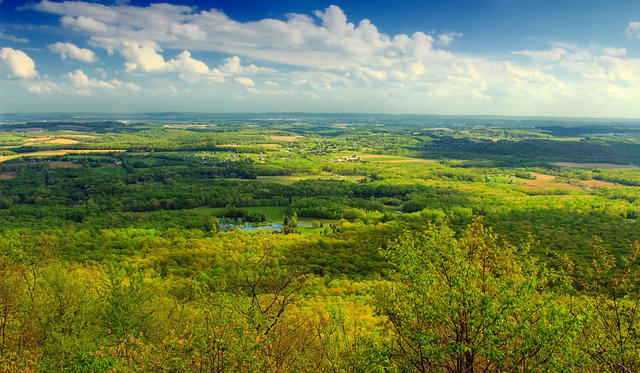 A view of a Shale Valley portion of the Lehigh Valley, Pennsylvania, viewed from an overlook on a sandstone ridge. There is some agriculture, but less of the land is used as cropland than in the nearby Limestone/Dolomite valleys. Photo © Nicholas A. Tonelli,
CC BY 2.0
.
Plant Lists & In-Region Search
We do not yet have data to generate plant lists for a region as fine-tuned as this one. However you can move up to the broader Ridge and Valley and generate lists for that region: native plants or all plants. Or search that region's plants here:
↑References
1. Woods, A.J., Omernik, J.M., Moran, B.C. "Level III and IV Ecoregions of New Jersey", (2007) Web.
2. Woods, A.J, Omernik, J.M., Brown, D.D. "Level III and IV Ecoregions of Delaware, Maryland, Pennsylvania, Virginia, and West Virginia", U.S. Environmental Protection Agency: National Health and Environmental Effects Research Laboratory, Corvallis, OR (1999) Web.