Home » Regions » North America » Great Plains
Great Plains
Page contents
To check where a specific point lies, you can look it up in our Ecoregion Locator.
↑Map Legend & Subregion List
This list will help you navigate the regions in case you have problems with viewing or clicking the interactive map above.
† Status: ✓ = Complete ○ = Needs Image … = Incomplete ∅ = Stub Only
↑Progress
| | | |
| --- | --- | --- |
| Partially Complete | With Images | Complete w/ Images |
Get involved! You can help our ecoregion articles progress faster. Help us find photos of these regions. Contact us if you have any additions or corrections to any of these articles. You can also donate to support our ongoing work.
↑About the Great Plains
The
Great Plains
are a flat, open region in central North America, extending north well into Canada and south into eastern Mexico. This region was historically covered by grasslands, but has been heavily developed for agriculture. It is not as heavily settled and urbanized as the eastern temperate forest region.
Rainfall in this region increases as one moves eastward, until one reaches the
Eastern Temperate Forests
. To the north, this region is bordered by the
Northern (Boreal) Forests
, to the west, the
Northwestern Forested Mountains
, and
deserts
in the southwest.
The flat topography, open vegetation, and drier climate can create large, unpredictable swings of temperature from day to day and week to week. There can also be periods of short-term and long-term drought.
Although this area was dominated by grassland before Western Settlement, fire suppression, development, and the planting of windbreaks has caused more tree species to become established here.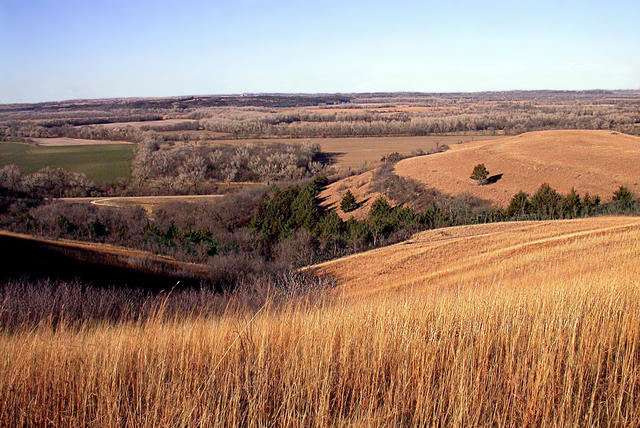 Photo © Edwin Olson, U.S. Fish and Wildlife Service,
CC BY 2.0