Home » Regions » North America » Eastern Temperate Forests » Ozark, Oauchita-Appalachian Forests » Southwestern Appalachians » Dissected Plateau
Dissected Plateau
Page contents
↑About the Dissected Plateau
The
Dissected Plateau
of the
Southwestern Appalachians
is a region located entirely within Alabama.
This region consists of a plateau that is so heavily dissected it no longer resembles a plateau; it consists almost entirely of steeply-sloping terrain, with a dense network of narrow gorges and branching ridgetops. It is underlain by a mix of quartzose sandstone, shale, siltstone, and coal. The climate here is humid and subtropical, but the steep topography creates considerable differences in microclimate from one site to the next.
This region is high in plant diversity due to its topography. The uplands and warmer south-facing slopes were mostly covered in oak-hickory and oak-hickory-pine forest, but there are also numerous sheltered coves, canyons, and narrow valleys with locally cool temperatures, allowing more northerly species to thrive here as well.
This region is mostly forested and has a large portion of protected public lands, mostly in Bankhead National Forest. The area is utilized both for recreation and forestry. There are some small areas of pastureland and cropland. The region mostly produces dairy cows and poultry. The Sipsey Fork of the Black Warrior River has been dammed here, creating the artificial
Lewis Smith Lake
, which has had extensive development along its margins. The dam that created this lake produces some hydroelectric power, and the lake and the development around it is used extensively for fishing and recreation.
To the south, this region is bordered by the
Shale Hills
, a region with less intensely-dissected terrain, flatter uplands, and more coal mining. The west of this region is bordered by the lower-elevation, less rugged
Fall Line Hills
, with a well-defined fall line marking the end of the Appalachians. There is an irregular, winding border to the east and northeast with the
Southern Table Plateaus
, a region characterized by very flat uplands with minimal dissection. This border is interrupted by a small border with the low-lying, limestone-rich
Sequatchie Valley
. To the north, this region borders the
Eastern Highland Rim
, which is lower-elevation and flatter, but still higher-elevation than the coastal plain. Between the Highland Rim and Table Plateaus there is also a narrow border to the east with the
Plateau Escarpment
, a transitional region of steep gorges; although similar in some respects to this region, the gorges of the Plateau Escarpment descend over much larger differences in elevation than the small gorges of this region.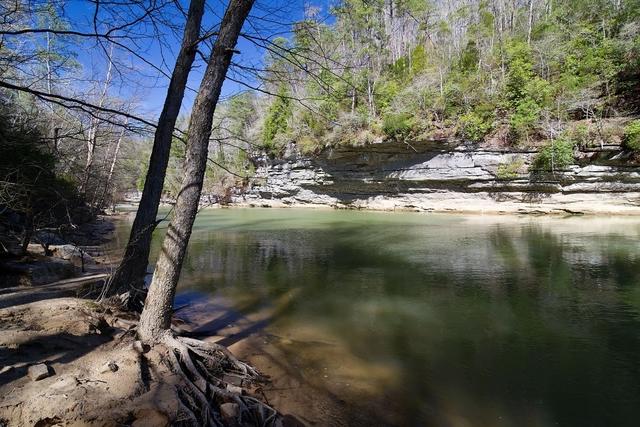 The Dissected Plateau of the Southwestern Appalachians consists almost entirely of steep slopes which create radically different microclimates, leading the region to be high in plant diversity. Photo © Rian Castillo,
CC BY 2.0
,
Source
.
Plant Lists & In-Region Search
We do not yet have data to generate plant lists for a region as fine-tuned as this one. However you can move up to the broader Southwestern Appalachians and generate lists for that region: native plants or all plants. Or search that region's plants here:
↑References
1. Griffith, G.E., Omernik, J.M., Comstock, J.A., Lawrence, S., Martin, G., Goddard, A., Hulcher, V.J., and Foster, T. "Ecoregions of Alabama and Georgia (color poster with map, descriptive text, summary tables, and photographs)", U.S. Geological Survey, Reston, VA (2001) Web.