Home
»
Plants
»
Celtis occidentalis
Common Hackberry (Celtis occidentalis
L.

)

Page contents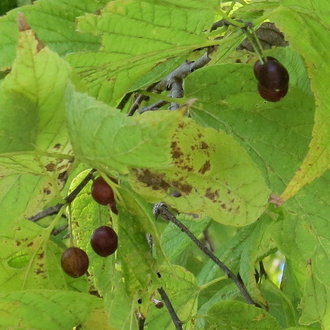 ↑Summary
A tree with a distinctive warty bark, conspicuously asymmetrical leaves, and small berries that somewhat resemble dates in their hard, crunchy, and sweet flesh surrounding a single seed.
| | |
| --- | --- |
| Legend | Color |
| Native | |
| Expanded | |
| Native or Not Present | |
| Native or Expanded | |
| Expanded or Not Present | |
| Native or Expanded or Not Present | |
This tentative map is based on our own research. It may have limited data on Canada and/or Mexico, and there is some subjectivity in our assignment of plants as introduced vs. expanded. Read more in this blog post.
This species has established new populations in Colorado, Utah, and northeastern Arizona; we mark these as Expanded because, although they are separated by moderate distances, they follow the pattern of this species distribution at the western portion of its range, in New Mexico, Wyoming, and Montana, where native populations are separated by similar distances.
↑Habitat
Found in a wide variety of conditions, mostly in hardwood forests. More common in bottomlands along rivers and streams, but also found in open woods, rocky hillstones, limestone outcroppings, and sand barrens. In the western part of its range, through the great plains, restricted to richer and more sheltered sites, mostly river valleys, ravines, and north-facing slopes.

Common on high pH soils, especially those derived from limestone, and intolerant of acidic soils (tolerant down to about 5.0). Although growth is best on nutrient-rich soils, it can sometimes be found on nutrient-poor soils, where it grows slowly.

Tolerant of soil saturation and substantial flooding, but absent from areas that are consistently saturated in all years as seedlings usually not able to survive to maturity in saturated soil. In the northwest of its range, from the Great Lakes region into the great plains, and throughout its range on limestone soils, it is also found in dry habitats.

Found in all successional stages, including old-growth forests, but usually uncommon in mature forests. Most common in forests at intermediate stages of succession, but even there rarely found in pure stands.
↑Life Cycle
Seeds germinate on the surface. Seedlings seem to establish better when the seeds are buried by some soil and/or leaf litter, and do not usually establish on exposed mineral soil or disturbed areas. Studies of seedling survival and establishment have found rather different results in different parts of this species' range. It often establishes under the shade of other species, including under a closed canopy, but can sometimes establish in open conditions. The best establishment seems to occur under somewhat open canopies, such as the conditions left by dead trees.

Growth rate is highly variable based on site conditions and competition from other plants, with the fastest growth on moist, sunny sites. Growth is suppressed on dry or nutrient-poor sites, or in shade, but most estalished seedlings still survive even in these conditions. The bulk of growth usually occurs between 20 and 40 years of age.

Seed production is consistent in most years, but some years have lighter crops. The seed ripens in early fall, but often remains on the tree through winter, until it is eaten by birds or other animals. Seeds begin to germinate after a period of cold dormancy, but only about a third germinate in their first year, with slightly fewer germinating in the second year. It is not known how many years the seed stays viable, but it does appear to form at least a short-term seed bank. An experiment found that some seed stays viable over 5 years, but it is not known whether this would occur in natural conditions.

Most trees reach a maximum size of around 30-50 feet in height, but on the best sites, trees can reach to 130 feet, or 95 feet in the more arid west. Trees usually live to about 150-200 years of age.
↑Uses
Infrequently planted as a landscaping plant, but well-suited to this purpose. The distinctive bark of mature trees imparts an interesting visual accent to the landscape year-round, and the elm-like growth habit is both visually appealing and practical whether this is used as a street tree or shade tree. The somewhat open canopy allows some gardening underneath, and the fruit, which are small and relatively dry, are neater than that of many tree species.
↑Related Plants
Numerous other Celtis species occur in North America; most of them are native. Two species are probably the most closely related: the more southerly sugarberry (Celtis laevigata) overlaps over a large area from Virginia west through Oklahoma, netleaf hackberry (Celtis reticulata) overlaps from Oklahoma and western Nebraska through northeastern New Mexico. This species readily hybridizes with C. laevigata to where it is hard to identify all individuals.

A few non-native species have been introduced at isolated sites.

There are several other plants in other genera of the Cannabaceae or hemp family, and even more in the broader grouping that includes the Ulmaceae or elm family.
↑Links & External Resources
• Hackberry | The Wood Database (About This Site)
• Common Hackberry | Fire Effects Information System (FEIS) (About This Site)
• Celtis occidentalis (Common Hackberry) | Illinois Wildflowers (About This Site)
• Celtis occidentalis (Common Hackberry) | USDA PLANTS Database (About This Site)
• Celtis occidentalis | Go Botany (About This Site)
• Celtis occidentalis (Hackberry) | Missouri Botanical Garden Plant Finder (About This Site)
• Hackberry | Virginia Tech Dendrology Factsheets (About This Site)
• Hackberry | Silvics of North America (About This Site)
• Celtis occidentalis | Biota of North America Project (BONAP) (About This Site)
• Celtis occidentalis | NatureServe Explorer (About This Site)
• Celtis occidentalis | Flora of North America (About This Site)
• Celtis occidentalis | Missouri Plants (About This Site)
• Common Hackberry | Maryland Biodiversity Project (About This Site)
↑Photo gallery