Home
»
Plants
»
Quercus prinoides
Dwarf Chinquapin Oak (Quercus prinoides
Willd.

)

Also known as dwarf chinkapin oak.

Page contents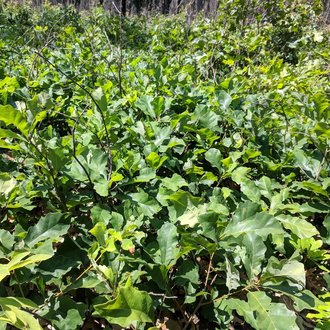 ↑Summary
A scrubby white oak, found on barren sites with dry, acidic soils.
| | |
| --- | --- |
| Legend | Color |
| Native | |
| Native or Not Present | |
This tentative map is based on our own research. It may have limited data on Canada and/or Mexico, and there is some subjectivity in our assignment of plants as introduced vs. expanded. Read more in this blog post.
↑Similar Plants
↑Habitat
Found on exposed, barren sites too harsh for larger tree cover, including pine barrens, shale barrens, and ridgetops with exposed rock outcroppings, and dry prairies. Occasionally found in edge habitats, including forest edges and roadsides. Found in dry, acidic soils, especially coarse, deep sands or shale.

Often found in fire-prone habitats. In the northeast, often occurs together with bear oak (Quercus ilicifolia).
↑Life Cycle
A fast-growing, shrubby species, Dwarf Chinquapin can flower as soon as 3-5 years of age.

In addition to producing acorns, this species also reproduces vegetatively, with a single individual often sending up multiple stems and forming a large thicket.
↑Links & External Resources
• Quercus prinoides (Dwarf Chinkapin Oak) | Illinois Wildflowers (About This Site)
• Quercus prinoides (Dwarf Chinquapin Oak) | USDA PLANTS Database (About This Site)
• Quercus prinoides | Go Botany (About This Site)
• Dwarf Chinkapin Oak | iNaturalist (About This Site)
• Dwarf Chinquapin Oak | Virginia Tech Dendrology Factsheets (About This Site)
• Quercus prinoides | Biota of North America Project (BONAP) (About This Site)
• Quercus prinoides | NatureServe Explorer (About This Site)
• Quercus prinoides | Flora of North America (About This Site)
• Dwarf Chinkapin Oak | Maryland Biodiversity Project (About This Site)
↑Photo gallery