Home
»
Plants
»
Acer nigrum
Black Maple (Acer nigrum
Michx. f.

)

Page contents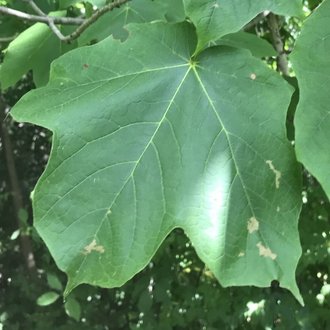 ↑Summary
A tree native to eastern North America, closely related to, but less common than the sugar maple.
| | |
| --- | --- |
| Legend | Color |
| Native | |
| Native or Not Present | |
| Native or Expanded | |
| Native or Expanded or Not Present | |
This tentative map is based on our own research. It may have limited data on Canada and/or Mexico, and there is some subjectivity in our assignment of plants as introduced vs. expanded. Read more in this blog post.
↑Similar Plants
↑Habitat
Mostly found in mixed hardwood forests, especially in well-drained portions of river valleys and bottomlands. Found in oak-hickory, maple-beech-birch, and maple-basswood forest associations. Becomes more common in the west, where it is better-adapted to the warmer, drier climate.

Like sugar maple, it is highly shade-tolerant and generally limited to sites that are moist but well-drained and aerated, sometimes found on slopes. Slightly more tolerant of wet soils, and significantly more tolerant of alkaline soils. Often found on limestone soils.
↑Uses
The wood is similar to sugar maple and typically grouped in with it and sold together as "hard maple".

Also used as a landscaping plant, where it is valued for its greater tolerance of heat, drought, and exposed conditions relative to sugar maple.

It can also be used to generate maple syrup with a yield and quality similar to that from sugar maple.
↑Related Plants
Closely related to sugar maple (Acer saccharum), and sometimes considered the same species. Hybridizes with this species; hybrids have intermediate characteristics and can be hard to identify. The pure species are usually easily distinguished by the black maple having three-lobed leaves.
↑Links & External Resources
• Black Maple | The Wood Database (About This Site)
• Acer nigrum (Black Maple) | Illinois Wildflowers (About This Site)
• Acer nigrum (Black Maple) | USDA PLANTS Database (About This Site)
• Acer nigrum | Go Botany (About This Site)
• Black Maple | iNaturalist (About This Site)
• Black Maple | Virginia Tech Dendrology Factsheets (About This Site)
• Black Maple | Silvics of North America (About This Site)
• Acer nigrum | Biota of North America Project (BONAP) (About This Site)
• Acer nigrum | NatureServe Explorer (About This Site)
• Black Maple | Maryland Biodiversity Project (About This Site)
↑Photo gallery