Home
»
Plants
»
Acer nigrum
Black Maple (Acer nigrum)
Page contents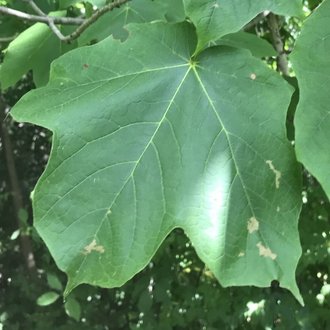 ↑Summary
A tree native to eastern North America, closely related to, but less common than the sugar maple.
This tentative map is based on the FHWA's ERA. This data lacks information on Canada, but also overestimates native ranges, especially around the edges, as this post explains. We have not yet reviewed or fixed this map.
↑Similar Plants
↑Habitat
Mostly found in mixed hardwood forests, especially in well-drained portions of river valleys and bottomlands. Found in oak-hickory, maple-beech-birch, and maple-basswood forest associations. Becomes more common in the west, where it is better-adapted to the warmer, drier climate.

Like sugar maple, it is highly shade-tolerant and generally limited to sites that are moist but well-drained and aerated, sometimes found on slopes. Slightly more tolerant of wet soils, and significantly more tolerant of alkaline soils. Often found on limestone soils.
↑Uses
The wood is similar to sugar maple and typically grouped in with it and sold together as "hard maple".

Also used as a landscaping plant, where it is valued for its greater tolerance of heat, drought, and exposed conditions relative to sugar maple.

It can also be used to generate maple syrup with a yield and quality similar to that from sugar maple.
↑Related Plants
Closely related to sugar maple (Acer saccharum), and sometimes considered the same species. Hybridizes with this species; hybrids have intermediate characteristics and can be hard to identify. The pure species are usually easily distinguished by the black maple having three-lobed leaves.
↑Links & External Resources
• Black Maple | The Wood Database (About This Site)
• Acer nigrum (Black Maple) | Illinois Wildflowers (About This Site)
• Acer nigrum (Black Maple) | USDA PLANTS Database (About This Site)
• Acer nigrum | Go Botany (About This Site)
• Black Maple | iNaturalist (About This Site)
• Black Maple | Virginia Tech Dendrology Factsheets (About This Site)
↑Photo gallery