Home
»
Plants
»
Rhus aromatica
Fragrant Sumac (Rhus aromatica
Aiton

)

Page contents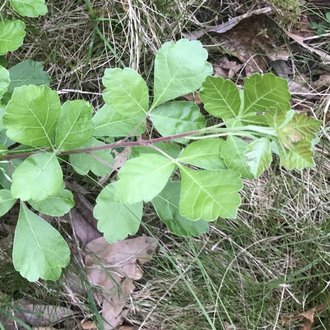 ↑Summary
A sprawling deciduous shrub, often growing wider than tall.
| | |
| --- | --- |
| Legend | Color |
| Native | |
| Expanded | |
| Native or Not Present | |
| Native or Expanded | |
This tentative map is based on our own research. It may have limited data on Canada and/or Mexico, and there is some subjectivity in our assignment of plants as introduced vs. expanded. Read more in this blog post.
This plant is so widely cultivated in landscaping that it occasionally escapes into the wild, even though it is not the most prolific seeder. We have marked new populations, both in the northeast and northwest, as expanded because they are all close to the native range.
↑Photo gallery