Home » Regions » North America » Northern Forests » Atlantic Highlands » Northeastern Highlands » Vermont Piedmont
Vermont Piedmont
Page contents
↑About the Vermont Piedmont
The
Vermont Piedmont
is a region oriented north-south, mostly located in southeastern Vermont, but extending into western Massachusetts, located at the eastern foothills of the Green Mountains / Berkshires, between these mountains and the lower elevations of the valley along the Connecticut river. It is geologically distinct from the regions on either side.
The underlying bedrock is metamorphic, including some rocks high in calcium. The calcium-rich soils buffer streams against acidity and contribute to the area being more suited for Western agriculture than the surroundings. The topography consists of hills and low mountains, elevations mostly ranging from 300 to 3,000 feet but peaking at 3,144 feet at Mount Ascutney. Local relief is typically 500-900 feet but can reach over 1,500 in some areas.
The region has a humid continental climate, with a short growing season of 100-130 days. Precipitation is high and roughly equally distributed year-round.
Forest cover here consists of a mix of northern hardwoods and transition hardwoods with greater presence of oaks. Northern hardwood forests feature
American beech (Fagus grandifolia)
,
yellow birch (Betula alleghaniensis)
, and
sugar maple (Acer saccharum)
, and some
red maple (Acer rubrum)
,
white ash (Fraxinus americana)
, and
American basswood (Tilia americana)
. There is also some
eastern hemlock (Tsuga canadensis)
, in hemlock-northern hardwood forests. Warmer south- and west-facing slopes have mesic red-oak northern hardwood forests, with
northern red oak (Quercus rubra)
, sugar maple, American basswood, American beech, and eastern Hemlock. There is also some white pine-red oak-black oak forest, with
eastern white pine (Pinus strobus)
, northern red oak, and
black oak (Quercus velutina)
. Dry ridgetops feature
red pine (Pinus resinosa)
, and some dry oak-hickory-northern hardwood forest with northern red oak,
white oak (Quercus alba)
, shagbark hickory, eastern white pine, and
American hophornbeam (Ostrya virginiana)
. Small areas of spruce-fir forest, with
red spruce (Picea rubens)
and
balsam fir (Abies balsamea)
, can be found at the highest peaks.
This area is fairly heavily utilized by humans relative to how rugged it is, and has a diversified economy relative to other rural areas. Although agriculture has declined from its peak, the landscape is still a mosaic of farms and woodland in some areas, although other areas have larger, unbroken tracts of forest. Agriculture here is fairly diverse, with a lot of pastureland and hay production, some livestock grazing and dairy farming, production of corn for silage, some vegetable farming, and apple orchards. This is also an important region in the production of maple syrup. Outside of agriculture, there is some rural residential development, forestry, and some tourism and recreation.
Over most of its length, this region is bordered by the
Northern Connecticut Valley
to the east and the
Green Mountains/Berkshire Highlands
to the west. At the north, there is a fairly broad border with the
Northern Piedmont
, the more northerly counterpart to this region. At the southern end, this region borders the
Berkshire Transition
to the south and the
Connecticut Valley
to the east, except for a small area where it directly borders the
Worcester/Monadnock Plateau
to the east.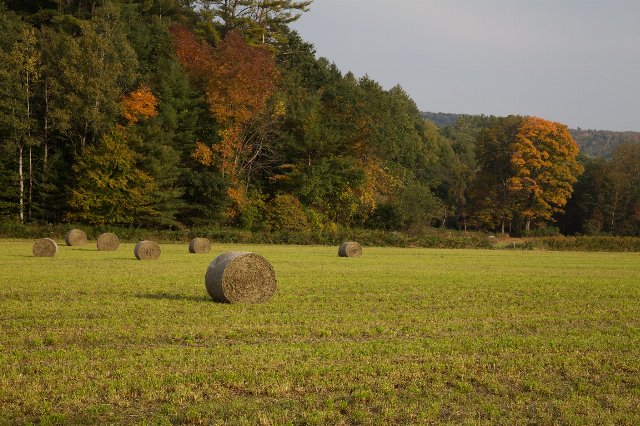 This photo shows scenery typical of the Vermont Piedmont, which is used for some agriculture, but also has considerable forest cover. Photo © David Brossard,
CC BY-SA 2.0
,
Source
.
Plant Lists & In-Region Search
We do not yet have data to generate plant lists for a region as fine-tuned as this one. However you can move up to the broader Northeastern Highlands and generate lists for that region: native plants or all plants. Or search that region's plants here:
↑References
1. Griffith, G.E., Omernik, J.M., Bryce, S.A., Royte, J., Hoar, W.D., Homer, J.W., Keirstead, D., Metzler, K.J., and Hellyer, G. "Ecoregions of New England (Poster)", U.S. Geological Survey (2009) Web.