Home » Regions » North America » Northern Forests » Atlantic Highlands » Northeastern Highlands » Berkshire Transition
Berkshire Transition
Page contents
↑About the Berkshire Transition
The
Berkshire Transition
represents an area in northwestern Connecticut and the southern half of western Massachussets that is transitional between the lower-elevation regions to the south and east, and the higher-elevation regions farther northwest. It shares some characteristics in common with the southern end of the Vermont Piedmont, and others with the
Glaciated Reading Prong
to the southwest, a region it does not directly border.
The underlying geology is diverse, consisting of a mix of limestone and other calcium-rich bedrock, schist, quartzite, and some gneiss. Some areas have dense glacial till, but the presence and amount of till is inconsistent. Variation in bedrock creates changes in terrain as well as soil type and stream alkalinity. Soils formed on glacial till are poorly-drained. Elevations here range from 400 to 1,700 feet (122-518m)
Natural forest cover here was and is still is diverse. Dry to mesic north-facing slopes and ravines supported northern hardwoods-hemlock-white pine forests. Mesic mid slopes supported a transitional forest with
northern red oak (Quercus rubra)
and
sugar maple (Acer saccharum)
, beech, sweet birch, and some white pine and hemlock. Warmer sites supported oak-hemlock-white pine forest, with white oak, chestnut oak, northern red oak, sweet birch, black cherry, and red maple, with some hemlock and white pine. Some of the driest ridgetops supported scrubby growth of pitch pine, northern red oak, black oak, and scarlet oak. Slopes along streams and adjacent terraces supported red maple, silver maple, American elm, basswood, sugar maple, shagbark hickory, and black cherry.
There is some agriculture here, although less than in flatter, lower-elevation regions, and agriculture has been declining. The area is mostly sparsely populated; Torrington, CT is the only city of any significant size. Most of the region is currently forested, although almost none of it is old-growth, the original forests being nearly entirely cleared by European settlers. A tiny (42-acre) preserve containing a small amount of old growth exists at
Cathedral Pines
in Cornwall, CT.
This region is bordered to the east by the much flatter, lower-elevation, and more fertile
Connecticut Valley
and to the south by the slightly flatter and lower-elevation
Southern New England Coastal Plains and Hills
. At the north, this region is bordered by the geologically similar but climactically colder
Vermont Piedmont
. In the south of this region, it is bordered to the west by the low-lying
Western New England Marble Valleys
, but farther north it is bordered by the higher-elevation
Lower Berkshire Hills
, and north of that, by the
Green Mountains/Berkshire Highlands
.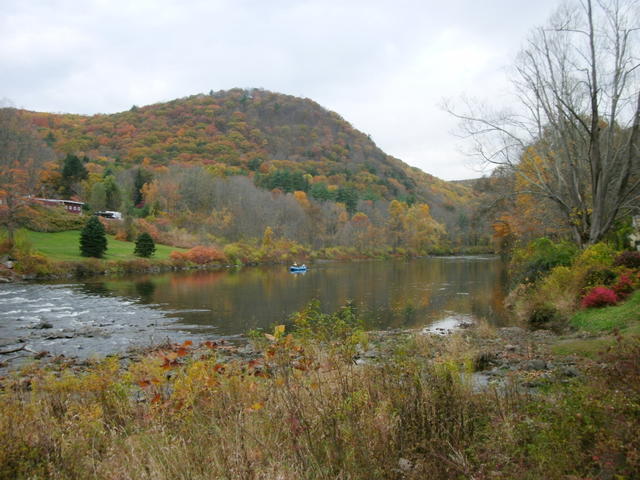 This photo shows the housatonic river in West Cornwall, CT, winding through a hilly landscape covered in mostly-deciduous forests, typical of this region. This is an edit (adjusting colors/lighting) of a photo © Doug Kerr,
CC BY-SA 2.0
,
Source
.
↑References
1. Griffith, G.E., Omernik, J.M., Bryce, S.A., Royte, J., Hoar, W.D., Homer, J.W., Keirstead, D., Metzler, K.J., and Hellyer, G. "Ecoregions of New England (Poster)", U.S. Geological Survey (2009) Web.
2. Bryce, S.A., Griffith, G.E., Omernik, J.M., Edinger, G., Indrick, S., Vargas, O., and Carlson, D. "Ecoregions of New York (Poster)", U.S. Geological Survey (2010) Web.