Home » Regions » North America » Northern Forests » Atlantic Highlands » Northeastern Highlands » Sunapee Uplands
Sunapee Uplands
Page contents
↑About the Sunapee Uplands
The
Sunapee Uplands
is a small, mostly-forested region located entirely in New Hampshire, towards the southwest of the state. This area tends to be cooler and higher-elevation than regions to the east, west, and south, but warmer and lower-elevation than regions to the north, and has a diversity of forest types owing to diverse terrain.
This region is a rolling plateau with hills and monadnocks throughout. The drainage patterns have been disrupted by glaciation, and there are numerous natural ponds and lakes throughout, as well as artificial reservoirs. The Pemigewasset River flows briefly through this region, but in most of the region there are only smaller streams. The bedrock in this region is a mix of igneous and metamorphic rocks, and the surface is covered mostly with sandy glacial till, with some sandy-loamy till. The climate is humid and continental, with high precipitation.
Original forest cover here was a mix of northern hardwood and transitional hardwood-coniferous forests, with some lowland spruce-fir forest. Northern hardwood forests featured
American beech (Fagus grandifolia)
,
yellow birch (Betula alleghaniensis)
, and
sugar maple (Acer saccharum)
as dominant trees, with some
red maple (Acer rubrum)
,
white ash (Fraxinus americana)
, and
American basswood (Tilia americana)
. Drier sites featured
northern red oak (Quercus rubra)
and
eastern white pine (Pinus strobus)
. Some sites also featured red oak-sugar maple forest, with northern red oak, sugar maple, American beech,
sweet birch (Betula lenta)
, and some eastern white pine. There were also hemlock forests, hemlock-beech-northern hardwood forests, and hemlock-beech-oak-pine forests featuring
eastern hemlock (Tsuga canadensis)
, American beech, northern red oak, and eastern white pine. At higher elevations, lowland spruce-fir forests featured
red spruce (Picea rubens)
,
balsam fir (Abies balsamea)
,
paper birch (Betula papyrifera)
, and yellow birch. The highest peaks supported montane spruce-fir forest.
Low-lying wetlands supported
black spruce (Picea mariana)
, red maple, and some
atlantic white cedar (Chamaecyparis thyoides)
swamps. River floodplains had forests of red maple,
silver maple (Acer saccharinum)
, sugar maple,
black cherry (Prunus serotina)
, and
American elm (Ulmus americana)
.
This area was more utilized for agriculture in the past, but most of it has been abandoned and much of the land has returned to forest. There is a small amount of pastureland and hay production remaining. The region also is used for forestry, tourism and recreation, and hunting and fishing. There is some rural residential development, and there are also some protected lands, including both state parks and wildlife management areas. Most of the region is sparsely populated, but there are some towns located in the valleys.
This region is bordered to the south and southeast by the similar but slightly warmer
Worcester/Monadnock Plateau
, to the west by the slightly lower-elevation
Vermont Piedmont
, to the north by the
White Mountain Foothills
, and in a small border to the east by the
Sebago-Ossipee Hills and Plains
.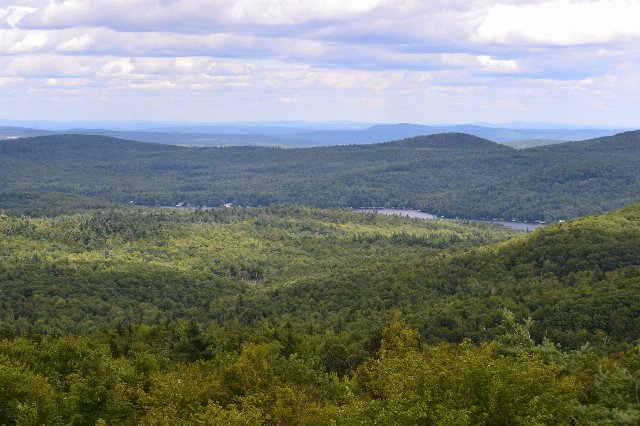 This photo, taken looking east from the fire tower atop Pitcher Mountain in New Hampshire, shows Highland Lake. The forested landscape is typical of the Sunapee Uplands, a high-elevation region with rolling hills and monadnocks, and numerous lakes throughout. Photo © Josh Graciano,
CC BY-SA 2.0
,
Source
.
Plant Lists & In-Region Search
We do not yet have data to generate plant lists for a region as fine-tuned as this one. However you can move up to the broader Northeastern Highlands and generate lists for that region: native plants or all plants. Or search that region's plants here:
↑References
1. Griffith, G.E., Omernik, J.M., Bryce, S.A., Royte, J., Hoar, W.D., Homer, J.W., Keirstead, D., Metzler, K.J., and Hellyer, G. "Ecoregions of New England (Poster)", U.S. Geological Survey (2009) Web.