Home » Regions » North America » Eastern Temperate Forests » Ozark, Oauchita-Appalachian Forests » Ridge and Valley » Northern Limestone/Dolomite Valleys
Northern Limestone/Dolomite Valleys
Page contents
↑About the Northern Limestone/Dolomite Valleys
The
Northern Limestone/Dolomite Valleys
are an irregularly-distributed set of valleys that make up a substantial portion of the northern half of the
Ridge and Valley
region of the Appalachians. Although separated from it in most places, this region is similar to the
Piedmont Limestone/Dolomite Lowlands
and differs from it primarily in its greater fragmentation and being surrounded in places by more high-altitude areas. It is the most fertile area for farming in the entire Appalachian region.
This area is a broad, flat lowland, with a karst topography, characterized by sinkholes and underground streams. Surface streams are uncommon and tend to be slow-flowing and have relative constant flow year-round. The underlying bedrock is mostly the soluble and calcium-rich limestone and dolomite, but there is also some shale. This substrate produces fertile soils ideal for Western agriculture.
Natural vegetation was probably mostly Appalachian Oak Forest in the north and Oak/Hickory/Pine forest in the south, with a slightly different forest composition in the numerous bottomlands.
Presently, this area is dominated by agriculture, with significant urban development and suburbanization around medium-to-small cities. It contains much of the metro areas of Easton, Allentown, Bethlehem, Lebanon, and Carlisle, PA, as well as Hagerstown, MD and Harrisonburg, VA. Very little forest cover remains, mostly in upland sites around the margins of more remote parts of this region. Some of the largest intact tracts of forests in this region are located in the valley surrounding State College, PA, including PA State Game Land 176, and a valley farther south including State Game Lands 41.
Within the Ridge and Valley system, this region borders and is interspersed with both the similarly low-lying but less fertile
Northern Shale Valleys
, as well as the higher
Northern Sandstone Ridges
. To the southeast, most of this region is bordered by the
Northern Sedimentary and Metasedimentary Ridges
of the
Blue Ridge
, but at its northernmost limit it opens up directly to various regions of the
Northern Piedmont
, most commonly the slightly less fertile
Triassic Lowlands
, but some areas of
Trap Rock and Conglomerate Uplands
. At the farthest northeast points, this area is bordered to the southeast by the
Reading Prong
.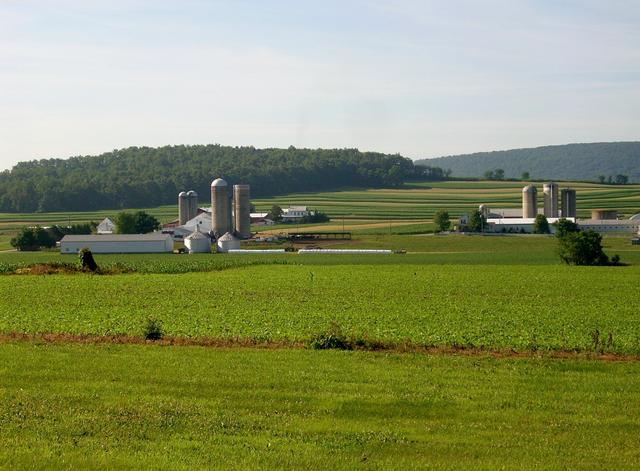 This photo, from Limestone Township, PA, shows a typical scene of farms, reflective of most of this region. The forested ridge in the distance is part of the sandstone ridges that this small, relatively flat valley is nestled between. Photo © Gerry Dincher,
CC BY-SA 2.0
.
Plant Lists & In-Region Search
We do not yet have data to generate plant lists for a region as fine-tuned as this one. However you can move up to the broader Ridge and Valley and generate lists for that region: native plants or all plants. Or search that region's plants here:
↑References
1. Woods, A.J., Omernik, J.M., Moran, B.C. "Level III and IV Ecoregions of New Jersey", (2007) Web.
2. Woods, A.J, Omernik, J.M., Brown, D.D. "Level III and IV Ecoregions of Delaware, Maryland, Pennsylvania, Virginia, and West Virginia", U.S. Environmental Protection Agency: National Health and Environmental Effects Research Laboratory, Corvallis, OR (1999) Web.