Home » Regions » North America » Eastern Temperate Forests » Southeastern USA Plains » Interior Plateau » Crawford-Mammoth Cave Uplands
Crawford-Mammoth Cave Uplands
Page contents
↑About the Crawford-Mammoth Cave Uplands
The
Crawford-Mammoth Cave Uplands
are a region stretching north-south in southern Indiana, into Kentucky, and then extending west in western Kentucky. This region is an irregular, dissected plateau, best-known for
Mammoth Cave
, the longest cave system in the world.
The landscape here is highly variable; the entire region is unglaciated. Most of the region is heavily-dissected, but there are some areas of flatter plateaus, as well as some broader valleys. Karst topography is common, with dry valleys, hanging valleys, sinkholes, and widespread caves and underground drainage. However, there is also significant surface drainage. The variable topopgraphy reflects diverse bedrock, with more soluble and permeable limestone mixed with erosion-resistant sandstone and more erodible but less permeable shale. The south also has siltstone, which is more permeable but less soluble. On the surface there are also alluvial deposits from rivers, and loess, wind-blown deposits from glaciers.
The climate is humid and subtropical, with weakly seasonal precipitation, peaking in May and being slightly lower in late summer. The climate is slightly colder in the north, but more-or-less similar throughout; precipation tends to increase to the south, making the moisture availability roughly equivalent, and the north has slightly longer winters, with a frost-free period as short as 170 days, whereas the warmest parts of the south have frost-free periods as long as 205 days.
This region was originally mostly forested, with some open forests or savannahs on drier slopes and ridges. Oak-hickory forest was dominant on uplands, with
white oak (Quercus alba)
,
black oak (Quercus velutina)
,
southern red oak (Quercus falcata)
,
post oak (Quercus stellata)
, and
pignut hickory (Carya glabra)
as canopy trees. More mesic sites supported
American beech (Fagus grandifolia)
,
sugar maple (Acer saccharum)
, southern red oak,
white ash (Fraxinus americana)
, and
tuliptree (Liriodendron tulipifera)
. Floodplains and areas along streas featured
American sycamore (Platanus occidentalis)
,
red maple (Acer rubrum)
,
river birch (Betula nigra)
,
eastern hemlock (Tsuga canadensis)
,
common hackberry (Celtis occidentalis)
, and
sweetgum (Liquidambar styraciflua)
. The northernmost part of this region had some beech forest and a few limestone barrens.
Current land use is a mosaic of forest, pastureland, and cropland in the south. This region produces livestock, hay, corn, soybean, wheat, and tobacco. The northern portions in Indiana are mostly forested, but there is some general farming in the broader valleys, mostly along the western border of this region. Nowadays, there are more early-successional ecosystems. Recently-abandoned agricultural land supports fields of
little bluestem (Schizachyrium scoparium)
,
broomsedge bluestem (Andropogon virginicus)
,
eastern redcedar (Juniperus virginiana)
, and sumac, which develops into early-successional forests of eastern redcedar and
black locust (Robinia pseudoacacia)
. Very few of the limestone barrens remain. There are significant areas of protected public land in this region. In the north, Hoosier National Forest has forests and a few limestone barrens, and is also home to Patoka Lake, an artificial reservoir. In the south, Mammoth Cave National Park is mostly located within this region, and preserves larger, more intact tracts of forest.
The northern portion of this region is bordered to the east along its entire length by the
Mitchell Plain
, a lower-elevation, flatter region that is more intensively farmed. To the west, this region is bordered in the north by the
Glaciated Wabash Lowlands
, and south of that by the
Green River-Southern Wabash Lowlands
. The southern portion of the region is bordered to the north by the
Caseyville Hills
, which it also surrounds in the east. To the south lies the
Western Pennyroyal Karst Plain
. At the far west, there is a small border with the
Wabash-Ohio Bottomlands
, which also barely touches this region in the east as well. The western end of this region also borders the
Western Highland Rim
to the south, and the southeastern corner borders the
Eastern Highland Rim
.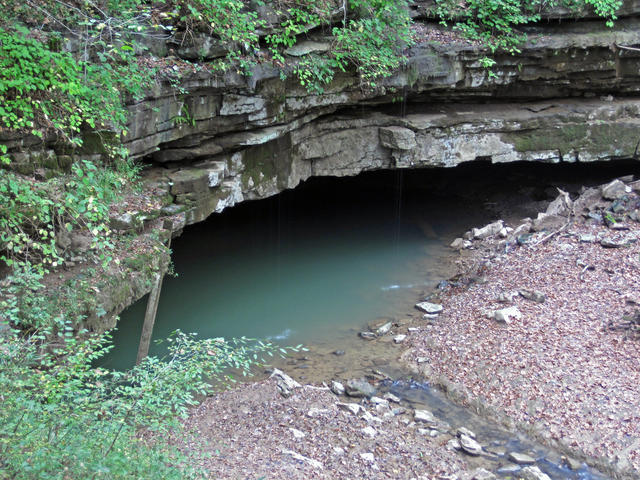 This photo shows an area where the river Styx emerges from a cave system. This area has a drainage system that may seem bizarre: the flow of this river can reverse direction during heavy rains and floods. The complex hydrology is one of the characteristic features of this region. Photo © James St. John,
CC BY 2.0
,
Source
.
Plant Lists & In-Region Search
We do not yet have data to generate plant lists for a region as fine-tuned as this one. However you can move up to the broader Interior Plateau and generate lists for that region: native plants or all plants. Or search that region's plants here:
↑References
1. Woods, A.J, Omernik, J.M., Brockman, C.S., Gerber, T.D., Hosteter, W.D., Azevedo, S.H. "Ecoregions of Indiana and Ohio (Poster)", US Geological Survey (1998) Web.