Home » Regions » North America » Eastern Temperate Forests » Southeastern USA Plains » Northern Piedmont » Triassic Lowlands
Triassic Lowlands
Page contents
↑About the Triassic Lowlands
The
Triassic Lowlands
are a region of the
Northern Piedmont
consisting of several discontinuous pieces, the largest extending from central New Jersey west into eastern Pennsylvania, and a few narrower regions farther south, extending north-south in a small band from southern Pennsylvania through Maryland and into Virginia. This region was unglaciated, but it is bordered to the north by its recently glaciated counterpart, the
Glaciated Triassic Lowlands
.
This region is a plain underlain by sedimentary rock and consisting of broad ridges and wide, flat valleys. Soils here tend to be less fertile than those of the neighboring
Piedmont Limestone/Dolomite Lowlands
, but more fertile than those of the
Piedmont Uplands
.
Originally this area was mostly covered with Appalachian oak forests. There are numerous streams and some small wetlands in the area. Relative to bordering regions, hickory (
Carya sp.
) is more abundant here, and red maple and tupelo less so, owing to differences in soil types.
Nowadays this area is heavily utilized for agriculture, with dairy being the principal industry, and there also being significant beef cattle, poultry, fruit, vegetable, and grain production. There is also significant suburban development in the part of this region near Philadelphia, and also in New Jersey. Wetlands have been reduced somewhat from their original extent.
Owing in part to the long and irregular shape of this region, it borders many different regions. In the north, it is interspersed with the higher elevation, rugged
Trap Rock and Conglomerate Uplands
, and in a few places it borders the more agriculturally-fertile Piedmont Limestone/Dolomite Lowlands. To the far northeast, it borders the Glaciated Triassic Lowlands to the northeast, the Reading Prong to the northwest, and the Inner Coastal Plain to the southeast. Where the Delaware river flows through this region, it flows south into the
Delaware River Terraces and Uplands
, and west of this there is a long border with the more hilly and rocky Piedmont Uplands.
The southerly portions of this region also border the Piedmont Uplands and Trap Rock and Conglomerate Uplands over a long distance, and there are also smaller borders with the Northern Inner Piedmont to the east, and the Northern Igneous Ridges and Northern Sedimentary and Metasedimentary Ridges to the west. A small isolated portion of this region also borders the Northern Limestone/Dolomite Valleys.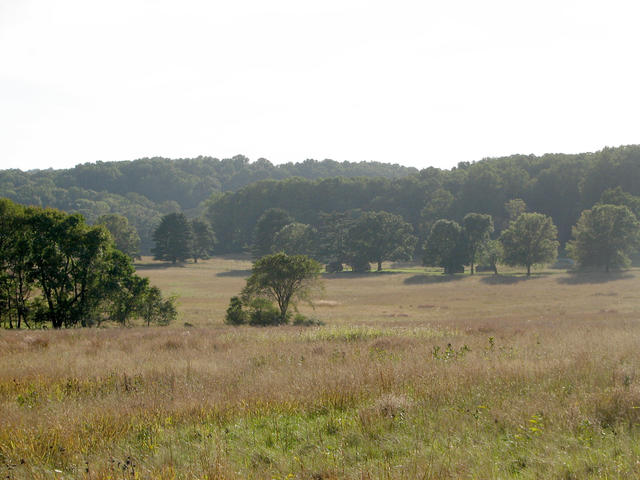 Pictured here is Valley Forge National Historic Park; although most of this region is utilized for either agriculture or residential development, this park provides a good opportunity to see the typical, relatively flat terrain in this region. Naturally this area would be entirely forested, except for some wetlands. Photo © chrisinphilly5448 (Flickr),
CC BY-SA 2.0
.
Plant Lists & In-Region Search
We do not yet have data to generate plant lists for a region as fine-tuned as this one. However you can move up to the broader Northern Piedmont and generate lists for that region: native plants or all plants. Or search that region's plants here:
↑References
1. Woods, A.J., Omernik, J.M., Moran, B.C. "Level III and IV Ecoregions of New Jersey", (2007) Web.
2. Woods, A.J, Omernik, J.M., Brown, D.D. "Level III and IV Ecoregions of Delaware, Maryland, Pennsylvania, Virginia, and West Virginia", U.S. Environmental Protection Agency: National Health and Environmental Effects Research Laboratory, Corvallis, OR (1999) Web.