Home
»
Plants
»
Quercus palustris
Pin Oak (Quercus palustris
Münchh.

)

Page contents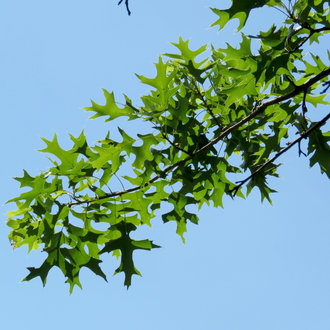 ↑Summary
A red oak of bottomland areas, with a large, heavy central trunk and abundant, small side branches.
| | |
| --- | --- |
| Legend | Color |
| Native | |
| Expanded | |
| Native or Not Present | |
| Native or Expanded | |
This tentative map is based on our own research. It may have limited data on Canada and/or Mexico, and there is some subjectivity in our assignment of plants as introduced vs. expanded. Read more in this blog post.
This species is widely planted in landscaping outside its native range, and often escapes. It has established only slightly north of its native range in a few places, which we mark as expanded rather than introduced because they are so close to its native range.
↑Photo gallery