Home » Regions » North America » North American Deserts » Cold Deserts » Northern Basin and Range
Northern Basin and Range
Page contents
To check where a specific point lies, you can look it up in our Ecoregion Locator.
↑Map Legend & Subregion List
This list will help you navigate the regions in case you have problems with viewing or clicking the interactive map above.
† Status: ✓ = Complete ○ = Needs Image … = Incomplete ∅ = Stub Only
‡ This code refers to the US EPA's Level 4 ecoregion codes for the continental U.S., see here.
↑Progress
| | | |
| --- | --- | --- |
| Partially Complete | With Images | Complete w/ Images |
Get involved! You can help our ecoregion articles progress faster. Help us find photos of these regions. Contact us if you have any additions or corrections to any of these articles. You can also donate to support our ongoing work.
↑About the Northern Basin and Range
The
Northern Basin & Range
consists of the northernmost portions of the
Great Basin
the largest endorheic watershed in North America (i.e. not draining to the ocean) and is mostly located in southeastern Oregon, southern Idaho, and northern Nevada, with smaller portions in extreme northwest Utah and northeast California.
This region has an arid climate ranging from steppe to desert climates, and has hot summers and cold winters. Precipitation is low year-round, but tends to be seasonal. There tend to be two precipitation peaks, one in May, throughout the region, and one in December, only in the West of the region, corresponding to slight maritime influence; this influence diminishes moving eastward to where it has no influence in the easternmost portion of the region, whereas the west of the region actually receives more rainfall in December than in May. Precipitation varies by elevation, ranging from about 6 inches at the lowest elevations to over 39 inches at the peaks of the Steens Mountains, the highest elevations in the region.
The topography here is diverse, with alternating areas of broad, flat basins, sparsely-dissected tablelands and lava plains, particularly in the north of the region, and scattered low mountain ranges that mostly trend north-south. Where valleys open up into bottomlands, there are long, gradually-sloping alluvial fans. There are numerous intermittent or ephemeral streams; the higher elevations feature a few perennial streams, mostly fed by snowmelt or springwater; except following rainfall, these streams dry up upon reaching lower elevations. There are numerous dry lake beds, referred to locally as playas; many of these are filled with water intermittently following large rain events.
Low elevations feature sagebrush steppe, with sagebrush (
Artemisia sp.
) interspersed with cool season grasses that go dormant in the hot months, whereas the highest elevations support open coniferous forests. Dominant plants in the lower, more arid regions include
big sagebrush (Artemisia tridentata)
, particularly mountain big sagebrush (
Artemisia tridentata ssp. vaseyana
), Wyoming big sagebrush (
Artemisia tridentata subsp. wyomingensis
),
little sagebrush (Artemisia arbuscula)
,
bluebunch wheatgrass (Pseudoroegneria spicata)
, rabbitbrush,
idaho fescue (Festuca idahoensis)
, and
thurber's needlegrass (Achnatherum thurberianum)
, and there is also some scattered juniper (
Juniperus sp.
) Ranges support slightly richer growth of mountain sagebrush,
curl-leaf mountain mahogany (Cercocarpus ledifolius)
, juniper, and Idaho fescue at lower to mid-elevations, with higher elevations featuring forests of
douglas fir (Pseudotsuga menziesii)
and
quaking aspen (Populus tremuloides)
. In Nevada there are also some scattered areas of
limber pine (Pinus flexilis)
and
whitebark pine (Pinus albicaulis)
at higher elevations.
There is substantial ranching and livestock grazing here, which tends to be carried out sparsely, with the livestock covering large amounts of ground over time, due to the slow growth of vegetation here. There is a small amount of irrigated cropland here, mostly in the easternmost part of this region. There is also a small amount of recreation here. Most of this region is sparsely populated; the largest settlement is Soda Springs, ID, with just about 3,000 people, followed by Burns, OR, Owyhee, NV, Jackpot, NV, and McCammon, ID.
This region is bordered to the south by the much larger
Central Basin and Range
. In the eastern 2/3rds of the region, it is bordered to the north by the
Snake River Plain
, another low, flat region with intensive agriculture fueled by irrigation from the Snake River. In the west, it is bordered to the north by the
Blue Mountains
, a region of low, open mountains that tends to have higher precipitation and thus richer vegetation cover. To the west, this region is bordered by the
Eastern Cascades Slopes and Foothills
, a region that is much more rugged and having somewhat higher precipitation, but still semiarid at lower elevations. To the east, this region is bordered by the
Middle Rockies
, another more rugged, mountainous region with higher elevations and more tree cover, except for a small areas in the east where it borders the
Wasatch and Uinta Mountains
to the southeast.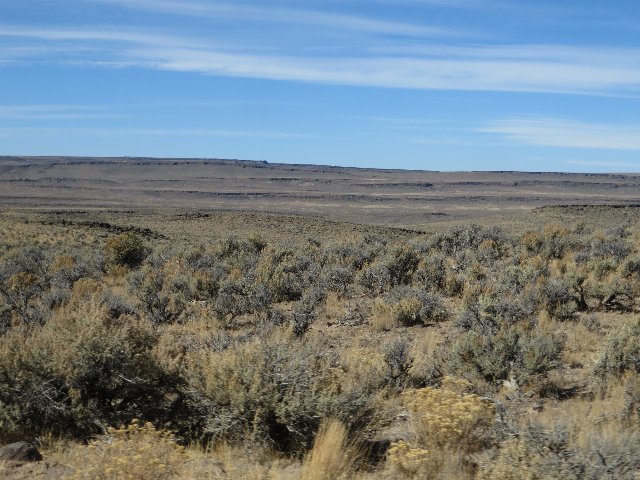 This photo, taken at Sheldon National Wildlife Refuge shows a relatively barren landscape typical of low elevations in the Northern Basin and Range. This refuge is one of the most intact areas of sagebrush steppe in the basin, and was created as a refuge for pronghorn. Photo © Ken Lund,
CC BY-SA 2.0
,
Source
.
Plant Lists & In-Region Search