Home » Regions » North America » Northwestern Forested Mountains » Western Cordillera » Middle Rockies
Middle Rockies
Page contents
To check where a specific point lies, you can look it up in our Ecoregion Locator.
↑Map Legend & Subregion List
This list will help you navigate the regions in case you have problems with viewing or clicking the interactive map above.
† Status: ✓ = Complete ○ = Needs Image … = Incomplete ∅ = Stub Only
‡ This code refers to the US EPA's Level 4 ecoregion codes for the continental U.S., see here.
↑Progress
| | | |
| --- | --- | --- |
| Partially Complete | With Images | Complete w/ Images |
Get involved! You can help our ecoregion articles progress faster. Help us find photos of these regions. Contact us if you have any additions or corrections to any of these articles. You can also donate to support our ongoing work.
↑About the Middle Rockies
The
Middle Rockies
are a portion of the Rocky Mountains located mostly in southwestern Montana, eastern Idaho, and northwestern Wyoming, but with many discontinuous pieces located significantly farther to the east, the largest of which are the Bighorn Mountains and Black Hills in the east, and with numerous smaller isolated mountains farther north.
This region has a mid-latitude continental climate with little maritime influence, and thus, more extreme weather. The climate ranges to subartic at the highest elevations, but winters tend to be severe throughout. Summers are warm at lower elevations and in the south, and cooler in the north and at higher elevations. The frost-free growing season ranges from 140 to 25 days. Precipitation ranges from about 12in/300mm annually to over 98in/2,500mm at summits. Precipitation is moderately seasonal. Most of the region has a brief wet season in May-June, which compounds with moisture availability from snowmelt, whereas the rest of the year markedly drier, but still receiving some precipitation, including significant snow in winter. However, in the Black Hills, the rainy season lasts a bit longer and winters are even drier.
The terrain here consists of high mountains, plateaus, and broad valleys and basins. The entire region was glaciated, shaping the mountains and valleys and also creating many of the basins, and leaving numerous small lakes throughout. There are also numerous high-gradient perennial streams and rivers. The bedrock is geologically diverse, with many different rock types and ages, including a mix of sedimentary, igneous, and metamorphic rocks, with bedrock at the surface in places and covered in glacial deposits in others. Soils here are similarly diverse, with highly-fertile soils forming under many of the grasslands in the valleys, but poorly-developed, infertile soils being common in steeper areas, and the soils also varying a lot based on substrate. The cold temperatures in this region tend to slow soil development but also slow leaching of mineral nutrients, so for the most part soils here tend to be mineral-rich but the minerals are often held up in the rocks on the younger soils.
The vegetation here is densest at mid-elevations, and consists mostly of coniferous forests, becoming progressively more open at low elevations, and also opening to meadows and alpine tundra at the highest elevations. Important trees here include
Douglas fir (Pseudotsuga menziesii)
,
lodgepole pine (Pinus contorta)
,
quaking aspen (Populus tremuloides)
,
subalpine fir (Abies lasiocarpa)
, and
Engelmann spruce (Picea engelmannii)
. Moisture-loving Pacific tree species are markedly less common here, and never dominant. Foothills are partly-wooded, with scrubland and grassland interspersed with open forests, and the valleys are covered in grass and/or scrubland.
Humans utilize this area in diverse ways, overall, more intensely than much of the Rockies because this area tends to be more accessible due to the broad valleys and isolated nature of many of the mountain ranges. There is extensive recreation and tourism, as well as forestry, mining, ranching, and livestock grazing. Small amounts of cropland are found in valleys, primarily growing hay, alfalfa, and barley. Large portions of this region are taken up by protected public land, including national parks and national forest, much of which is managed for wildlife habitat. Yellowstone Grand Teton National Parks are located here, as well as Beaverhead-Deerlodge, Bighorn, Black Hills, Bridger-Teton, Caribou-Targhee, Custer Gallatin, Helena-Lewis and Clark, and Shoshone National Forests. Settlements are mostly located in the valleys. The largest cities are mostly in Montana, and include Missoula, Helena, Butte, and Bozeman. The only other settlement of significant size here is Jackson, WY.
This region is bordered to the west by the
Idaho Batholith
, another mountainous region with a similar climate, but one that tends to have predominately igneous rock and soils that are acidic, nutrient-poor, and poor at holding water, and that lacks the broad, flat valleys of this region. There is a small border to the northwest with the
Northern Rockies
, a region that has greater climate influence from the Pacific ocean, and to the north by the
Canadian Rockies
. At the very south there is also a small border with the
Wasatch and Uinta Mountains
which extend well into Utah.
Most of this region, however, is surrounded by lower-elevation, drier areas. In the north there is a small border to the northeast by the
Northwestern Glaciated Plains
but most of the region is either bordered to the northeast, or totally surrounded by the (unglaciated)
Northwestern Great Plains
. Both of these are semiarid regions of predominately shortgrass prairie. Farther south, this region is bordered to the southeast by, or parts surrounded by, the
Wyoming Basin
, a more arid, cold desert region.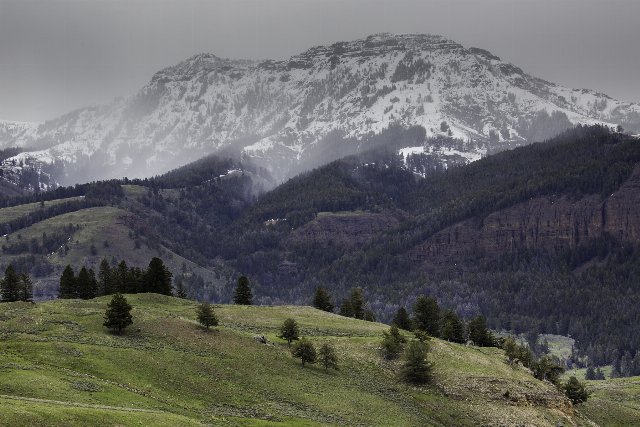 This photo taken during the beginning of the wet season shows Lamar Valley in Yellowstone National Park, one of the more iconic parks in this region. The precipitation has fallen as snow at the higher elevations. The diverse landscape with broad, open grasslands at lower elevations, forests at mid elevations, and high mountains devoid of tree cover, is in many respects typical of the region. Photo by Neal Herbert,
Public Domain
,
Source
.
Plant Lists & In-Region Search