Home » Regions » North America » Northwestern Forested Mountains » Western Cordillera » Blue Mountains
Blue Mountains
Page contents
To check where a specific point lies, you can look it up in our Ecoregion Locator.
↑Map Legend & Subregion List
This list will help you navigate the regions in case you have problems with viewing or clicking the interactive map above.
† Status: ✓ = Complete ○ = Needs Image … = Incomplete ∅ = Stub Only
‡ This code refers to the US EPA's Level 4 ecoregion codes for the continental U.S., see here.
↑Progress
| | | |
| --- | --- | --- |
| Partially Complete | With Images | Complete w/ Images |
Get involved! You can help our ecoregion articles progress faster. Help us find photos of these regions. Contact us if you have any additions or corrections to any of these articles. You can also donate to support our ongoing work.
↑About the Blue Mountains
The
Blue Mountains
are a mountain range mostly located in north-central to northeastern Oregon, but extending slightly into western Idaho and southeastern Washington.
This region consistes of open mountains that tend to be lower than both the Cascades to the west and the Rockies to the east. Like the Cascades, this region is volcanic in origin, but unlike that region, it is no longer active. The surface of much of this region is covered in lava flows which have been dissected by streams, leading to deep canyons cutting through a plateau surface above. Some larger ranges, primarily the Wallowa and Elkhorn mountains, originating as magma intrusions, rise to higher elevations. The stream density here varies considerably by elevation and substrate. There are some springs throughout, and some lakes at the highest elevations. A large portion of the soils here formed on volcanic ash.
This region is climactically diverse and its climate is hard to classify, sharing elements of Mediterranean, semi-arid continental steppe, and humid continental climates, with some elements of oceanic and dry-summer subarctic climates at the highest elevations. Precipitation is seasonal, but with a weakly bimodal pattern different from areas closer to the West Coast and more similar to portions of the Rocky Mountains: rainfall tends to peak in May, with a dry season from July through September, followed by another wetter season from November through January. Precipitation increases dramatically with elevation.
The vegetation cover varies considerably, both elevation and substrate, and as a function of slope aspect. The driest sites at lower elevations are mostly covered by grasslands of
bluebunch wheatgrass (Pseudoroegneria spicata)
,
idaho fescue (Festuca idahoensis)
, and
big sagebrush (Artemisia tridentata)
, including mountain big sagebrush (
Artemisia tridentata ssp. vaseyana
), with some juniper woodlands. In these areas, trees are mostly limited to locally cooler and moister sites. Mid elevations with enough rainfall to support forests feature mostly
ponderosa pine (Pinus ponderosa)
with some
Douglas-fir (Pseudotsuga menziesii)
and
grand fir (Abies grandis)
. Higher elevations feature
subalpine fir (Abies lasiocarpa)
,
Engelmann spruce (Picea engelmannii)
,
whitebark pine (Pinus albicaulis)
, and
lodgepole pine (Pinus contorta)
, opening into krummholz and alpine meadows at the highest elevations.
This region has diverse land use, although it is not particularly intensive. There is widespread cattle grazing throughout the lower elevations of this region. Areas along major rivers and larger streams have some irrigated cropland, producing alfalfa, winter wheat, potatoes, mint, onions, garlic, and grass seed. Higher elevations are utilized for forestry and recreation. There are some large areas of protected public land, including Malheur, Umatilla, and Wallowa-Whitman National Forests. The only settlements of appreciable size here are located in Oregon; the largest city is Redmond, OR, followed by La Grande, Prineville, and Baker City; all of these are located in relatively dry, low-elevation areas. Most of the region is sparsely populated, although overall this region is more populous than the more rugged mountains to the east and west.
This region is bordered to the north by the
Columbia Plateau
, a lower, flatter, drier region that is surrounded by mountains. To the south, it is mostly bordered by the
Northern Basin and Range
, a sparsely-populated desert region, except in the east where it is bordered to the south by the
Snake River Plain
, a more populous region relying on irrigation from the Snake River. To the west, this region is bordered by the
Eastern Cascades Slopes and Foothills
, which is transitional to the more humid
Cascades
. To the east, it is bordered by the
Idaho Batholith
, a more rugged region of taller mountains and part of the Rocky Mountains. Northwest of that, there is also a very small portion of this region where it directly borders the
Northern Rockies
to the northeast. Both of these regions are higher-elevation and more rugged.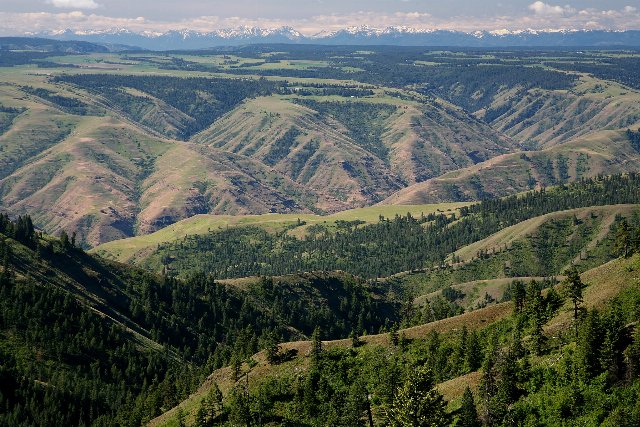 This view of the Grande Ronde River valley from Umatilla National Forest shows a landscape typical of the Blue Mountains, where the vegetation cover varies significantly by elevation and microclimate, driven by changes in moisture availability. Photo © US Forest Service - Pacific Northwest Region,
Public Domain
,
Source
.
Plant Lists & In-Region Search