Home » Regions » North America » North American Deserts » Warm Deserts » Mojave Basin and Range
Mojave Basin and Range
Page contents
To check where a specific point lies, you can look it up in our Ecoregion Locator.
↑Map Legend & Subregion List
This list will help you navigate the regions in case you have problems with viewing or clicking the interactive map above.
† Status: ✓ = Complete ○ = Needs Image … = Incomplete ∅ = Stub Only
‡ This code refers to the US EPA's Level 4 ecoregion codes for the continental U.S., see here.
↑Progress
| | | |
| --- | --- | --- |
| Partially Complete | With Images | Complete w/ Images |
Get involved! You can help our ecoregion articles progress faster. Help us find photos of these regions. Contact us if you have any additions or corrections to any of these articles. You can also donate to support our ongoing work.
↑About the Mojave Basin and Range
The
Mojave Basin and Range
is a region encompassing a series of
Warm Deserts
stretching from interior southern California through southern Nevada and into northwestern Utah. It is the northernmost portion of the warm deserts in North America, and it is home to Death Valley, the hottest, driest place in North America. This region has some of the more severe environmental issues of the desert regions of North America.
This region consists of broad basins and scattered mountains that tend to be lower-elevation and warmer than the Central Basin and Range to the north. The ranges tend to trend north-south. Some basins feature old lakebeds from previous periods when the climate was wetter. Surface water is scarce and streams are rare and are all ephemeral, appearing only during large rain events. There are, however, a few springs, seeps, and ponds, fed by groundwater that accumulates from rainfall at higher elevations. The Colorado river flows into this region from the east and crosses this region briefly, then flows out to the south.
The lower elevations have a subtropical desert climate with weak seasonality of temperature, with hot summers and warm winters. Mid elevations are intermediate between Mediterranean and continental climates. A few of the highest peaks have dry-summer subarctic climates. Precipitation is seasonal, with the pattern varying regionally. The west has a pattern similar to most of the West Coast, with dry summers and relatively wetter winters. Moving east, the seasonality of precpitation becomes more affected by the North American Monsoon, pushing the driest season earlier (April-June) and leading to greater possibility of some rain in July and August. Some frost occurs in winter throughout, with frost-free periods ranging from 150 to 350 days throughout most of the region, excepting the peaks which can have very brief frost-free periods. Precipitation totals range from 50mm (under 2 inches) to over 900mm (over 35 inches) annually on the highest peaks, but there are relatively few areas with more than 635mm (25in) of precipitation and most of this region falls solidly in the desert climate zone.
Vegetation is markedly different from regions to the north and south, and consists mostly of shrubland dominated by
creosote bush (Larrea tridentata)
. The Mojave desert features creosote bush,
white bursage (Ambrosia dumosa)
,
Joshua tree (Yucca brevifolia)
, other
Yucca
species, and
blackbrush (Coleogyne ramosissima)
. Alkali flats support saltbush (
Atriplex sp.
),
saltgrass (Distichlis spicata)
,
alkali sacaton (Sporobolus airoides)
, and
iodine bush (Allenrolfea occidentalis)
. Mountains have lusher growth of sagebrush (
Artemisia sp.
), juniper, and
singleleaf pinyon (Pinus monophylla)
. Some areas have barren sand dunes. The highest elevations have some
ponderosa pine (Pinus ponderosa)
,
white fir (Abies concolor)
,
limber pine (Pinus flexilis)
, and
great basin bristlecone pine (Pinus longaeva)
, which is the oldest recorded species to date, living over 5,000 years.
This region is threatened by heavy use of off-road vehicles and motorcycles, which disturbs the soil, leaving it vulnerable to erosion by wind and water. This issue is more serious here for multiple reasons: the extraordinarily slow growth of vegetation and slow pace of soil development processes makes the recovery from damage very slow, but also, the sparse vegetation and flat terrain in the bottomland makes it easier for motorcycles and off-road vehicles to travel through the desert in areas where there are no roads. The high population in this area further magnifies these problems.
Lake Mead
, the largest reservoir in the US as measured by water capacity, is located here; it was created by the construction of the
Hoover Dam
on the Colorado River. Most of the flow into this reservoir is used up and only a small portion of the original flow exits the dam; the bulk of the water is used for agriculture, with smaller but non-negligible amounts used for residential water supply and some used for industry. The damming of the river here has had a catastrophic effect on the Colorado River Delta; it completely starved the river of all flow for a period of six years. This dam also eliminated the natural flooding that had occurred along the length of the river, which destroyed nearly all the habitat for plant and animal species that depended on this flooding. This has led a number of species, including ones previously secure in this region, to become threatened and endangered. A few wetlands exist downstream from Lake Mead, and some of them are protected as Havasu National Wildlife Refuge and Topock Marsh, but these areas are severely altered from the original patterns and level of water flow that existed prior to the construction of the Hoover Dam.
Most of this region is federally owned and protected. There are only small amounts of ranching and livestock grazing, limited by the lack of water and sparse vegetation for forage. There is some recreation here, as well as military training, and small amounts of mining, mostly for precious metals, tungsten, and iron. A few small areas have irrigated agriculture, mostly in valleys either near the northeast or southern margins of this region. Although most of the region is unpopulated, there is a surprisingly large population here, centered in a number of moderate-density urban areas. Las Vegas is the largest city, with a metro area of over 2.2. million, and there are the medium-sized cities of Lancaster, CA, Victorville, CA, and St. George, UT, as well as the smaller cities of Barstow, CA, Ridgecrest, CA, Bullhead City, AZ, and Kingman, AZ. The population is supported largely by water from the Colorado river, fueled by snowmelt in the Rocky Mountains, although in the west, water is also extracted from local aquifers by wells. Population growth has been rapid since the 1960's, and is unsustainable as this region relies on external water, and the use of such water has had devastating effects on ecosystems downstream from the water supply.
This region is bordered to the south by the
Sonoran Basin and Range
, a warmer region that is largely frost-free in the bottomlands and that tends to have very different vegetation cover as a result. The region is bordered to the north by the
Central Basin and Range
, a region that is colder and also tends to have higher-elevation mountain ranges. This region is bordered to the east by the
Arizona/New Mexico Plateau
, another desert region that is much higher-elevation and colder, except in the far north of this region where there is a small border to the north with the
Colorado Plateaus
, another higher-elevation, colder region. The border to the southwest and west is mostly with the
Southern California Mountains
, a relatively higher-elevation, higher-rainfall area with a more Mediterranean climate, but north of that, there is a small border to the west with the southernmost end of the
Sierra Nevada
, another higher-elevation, higher-rainfall region.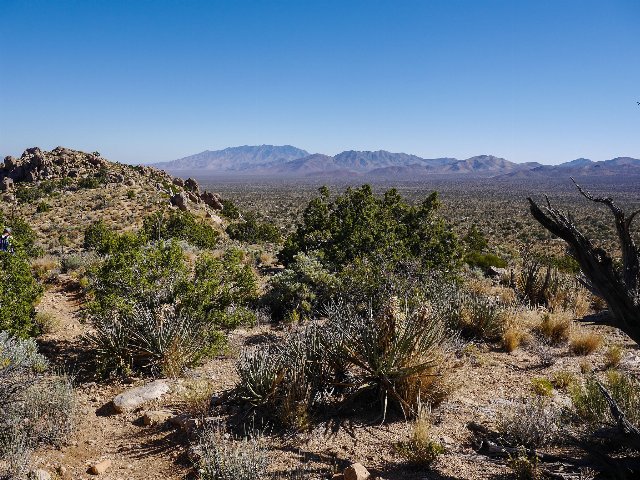 This photo of
Mojave National Preserve
in California shows one of the better-preserved areas of the Mojave Basin and Range. The foreground shows dry scrubland with numerous yuccas, typical vegetation for the drier, lower-elevations that make up most of this region. Mountains are visible in the distance, and most of the slopes are still dry enough to lack tree cover, supporting only sparse, low shrubs. Photo © Anna Irene,
CC BY-SA 2.0
,
Source
.
Plant Lists & In-Region Search
↑References
1. Wiken, E., Griffith, G. "North American Terrestrial Ecoregions - Level III", Commission for Environmental Cooperation, (2011) Web.